FREQUENTLY ASKED QUESTIONS

What is a Digital Organizing Session?
A Digital Photo Organizing Session is the solution to your digital photo overwhelm! Using screen sharing software, someone from the Miss Freddy Team will work on YOUR computer to organize your digital photos… no matter where in the world you are located. We will first consolidate photos from multiple sources, then sort them into a simple folder structure, remove duplicates, and back it all up to your preferred cloud service provider.
You are left with ONE organized Photo Library containing your lifetime of digital photos + videos. And it's properly backed up to the cloud so you can sleep well knowing your photos are finally safe!

What does the finished product look like?
Every client's starting position is unique, but the end result is the same- a central Photo Library that is organized into a simple folder structure and properly backed up to the cloud. Typically, photos + videos are organized together into Year/Month folders. If you have existing organization in place (like descriptively labeled folders from the pre-kid days when you had the time to be organized), I will do my best to keep that intact and merged seamlessly into the final Photo Library. Here's an example of a finished library: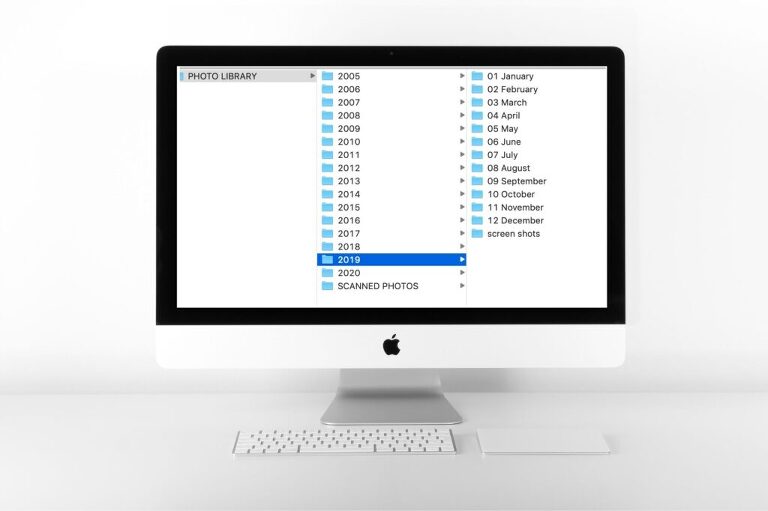 How long does it take?
Every project is unique, but most are completed in 3-4 weeks.  Timing varies based on your current state of organization, the number of photos in your collection, the speed of your computer, and your internet strength.

How much will I need to be available?
You will need to be available on the phone for one hour during the initial consultation and then again for one hour during the wrap up call at the end of the project.  During the time in between, I will work independently via screen share and communicate with you via text message.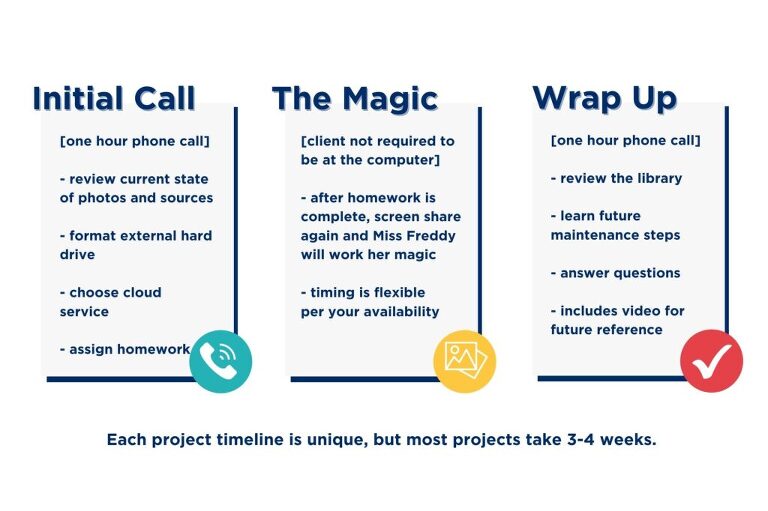 Will I be able to maintain things by myself after you are done?
That's the goal! During the wrap up call I will demonstrate the simple maintenance steps. I will also provide a written maintenance plan + a video tutorial that you can reference as needed. Also, I offer Maintenance Sessions if you decide you'd like me to update your library in the future (but most clients don't need them).


How much does it cost?
The price of the session varies based on the number of photo sources you include. Example photo sources are phone(s), iCloud, Google Photos, Dropbox, external hard drives, old computers, etc.
Lite Session is $1000
Standard Session is $1500
Oversized Session is $2500
A $500 deposit is due at time of booking and the remaining balance is due the week of the session.
How do I determine which size Session I need?
Lite: 2 sources
Phone + Computer only
*camera roll must be under 30k to qualify
Standard: up to 5 sources
Lite + External Hard Drive(s) under 2TB + Additional Cloud Services
*camera roll must be under 150k to qualify
Oversized: up to 10 sources
Standard + External Hard Drive(s) over 2TB + Additional Sources
Flash drives, memory cards and CDs can be included in this project, but do not count as sources because it will be your 'homework' to transfer them after our initial call (we will provide instructions on how to do this).
What do I need to do to prepare?
Honestly? Nothing! That's the best part! During the initial call I will review the state of your photos and assign homework at that time (if needed). It can be helpful to have a brand new external hard drive for the initial call, but many clients want me to review their situation to determine the appropriate drive capacity so it is not a requirement for the call.
A few days before the scheduled appointment, you will receive an email with the screen share information and a brief info form/invoice/contract.


How do I book a session?
After 4+ years of managing a waitlist, I'm THRILLED that the Miss Freddy Team has grown, we now have increased availability and this service can be booked on-demand! Visit this page to choose the best date for your schedule.


Wait… is this safe?
The screen share is a private meeting. You have to authorize the screen share each time in order for me to access your computer. When you close the screen share program, I no longer have access to your computer. You are always able to watch me work and see everything that I do. If at any time you need to close the screen share (to take a Zoom call or pay some bills online), you can!


What if I'm embarrassed to show you my mess?
When I say we've already seen everything, I mean we've seen everything. We've had clients with 2k photos on their phone and clients with over 200k. No matter what your current situation is, please don't feel embarrassed. This is our job!


Photos are kind of private. Have you seen…. stuff?
We've seen ALL the stuff. Photos of babies being born. Videos of babies being made. Questionable rashes. Plastic surgery. Weight loss photos. More questionable rashes. As we are organizing your photos it's mostly about software and settings and the technical stuff… we are rarely interacting with full-screen photos.