Half of the year has gone by since I wrote out my goals for the year & identified technology as a big issue for me.  Back then I set the intention of 'being more present' in 2014 and shared some habits I wanted to experiment with on a monthly basis.
As a refresher, the habits were: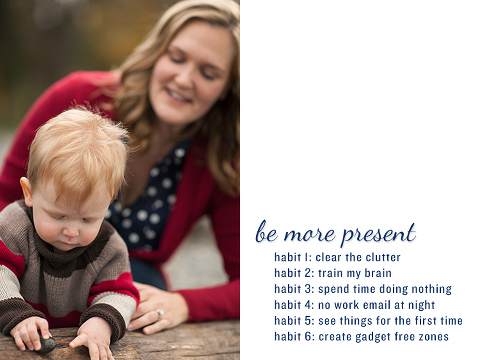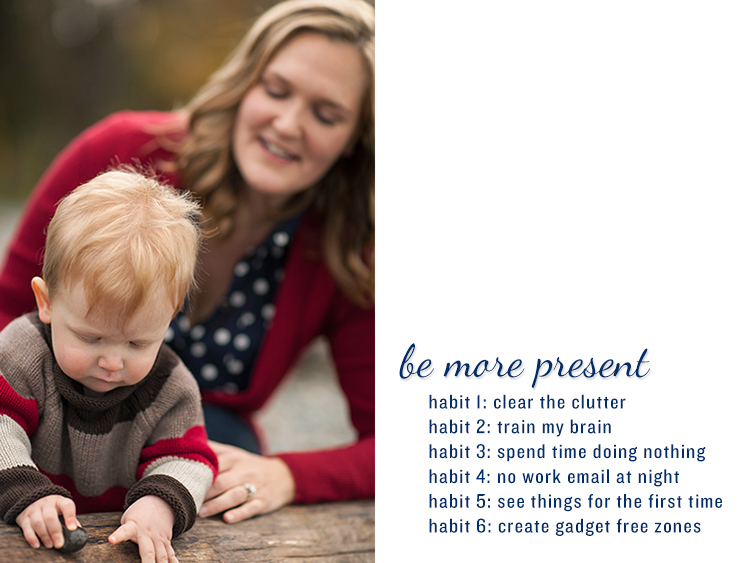 When I set out on the journey, I intended to share monthly updates & learnings (especially since I heard from so many other mommas who were struggling with the same thing!), but it turns out a technology addiction isn't always so fun to talk about.  Now that the year is half over, it felt like the right time to share one big, honest post about how things are going with my struggle to set down the phone and be more present.
clear the clutter
Internet clutter was my main issue.  The biggest wins here were turning off notifications for email & facebook.  This was HUGE!  Despite my best intentions, when I would hear that pesky 'ding', my mind would immediately lose focus and start wondering about that email.  Was it important?  Was it from a best friend?  I'd itch to pick up the phone and check.  Guess what?  It was always spam, but it served the same distraction either way.  I highly recommend turning off your email notifications… it's liberating!  And on the topic of spam, unroll.me took care of that- sign up (for free) to get all of your subscription emails in a daily digest form.  
train the brain
I spent four weeks doing daily Lumosity exercises (using their free app) and attempting to learn spanish through DuoLingo (another free app).  I assumed exercising my brain would help improve focus/attention.  I believe Lumosity helped with my memory a tiny bit.  Just a week after I started, I was grocery shopping and realized I'd remembered my entire list without having to reference it (this is not typical for me).  But, ultimately, I decided these two apps were not providing enough value for the amount of time I was investing.  And since my initial goal was to limit time spent on my iPhone, I decided these had to go.
spend time doing nothing
Coincidentally, this habit came during the month when my morning sickness was at its peak.  And basically, without meaning to, I was spending a whole lot of hours on the couch… doing nothing.  The intense fatigue forced me off my phone because I didn't feel I had the energy to check Facebook/email/etc.  But I don't feel like I actually attempted this habit [more on this later].
no work email at night
Easier said than done.  For sure.  Still a work in progress.
see things for the first time
This was a fun one to practice and easy to do when you spend all day with a toddler.  I watched Colin's excitement and awe over the silliest & smallest things [a rock!  this amazing rock!  can I hold it all day long… and never let go?]  And while I don't share his exact enthusiasm for rocks, I did get WAY more joy out of watching him than I do watching my phone.  Really emphasized the reason behind this project.
create gadget free zones
Massive fail here.  I thought I could keep my cell out of the bedroom… nope.  Maybe out the living room?  Nope.  Kitchen? Nah.  It turns out that I need my phone for useful things like Facetiming grandparents, recipes, etc and there wasn't a logical gadget free zone for me at this moment.  Once Colin is a bit older and we start eating dinner as a family, I intend to make the dinner table a gadget free zone FOR SURE.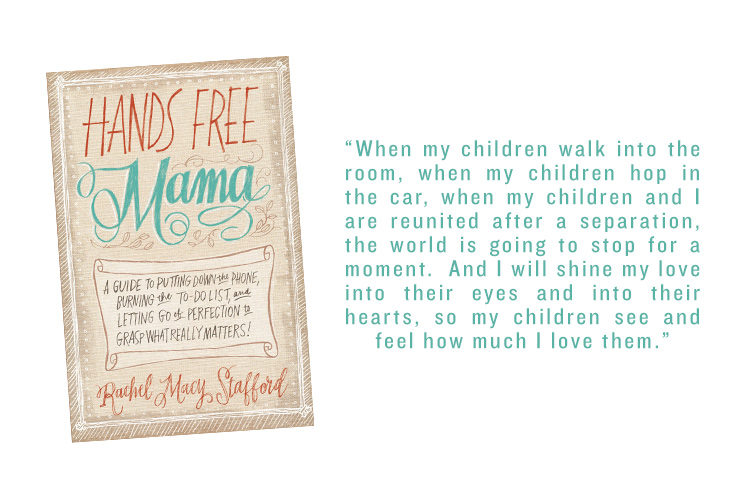 so… what's next?
I recently read the book Hands Free Mama and it got to the heart of why presence is important in parenting [see quote above].  I found the author after reading her article on Huffington Post "The Day I Stopped Saying Hurry Up"[a great read for all parents].
Inspired by this book, there are a few more habits I want to try in the second half of the year:
have 'do nothing' moments [ex: take a walk and let the child set the pace]
participate wholeheartedly in a loved ones activity [ex: go to a baseball game with my husband and actually pay attention to the game/talk about it]
turn drive time into connection time [ex: no radio, have a conversation instead]
impact the world with kindness [ex: bless friends (or strangers) with random acts of kindness]
The book contained so much more than that, but these are the ones I feel make sense for me right now.  As Colin gets older, there are additional ideas/activities I hope to use.
I'm so thankful I decided to make 'being present' a focus for the year.  While I certainly haven't mastered it, I feel like I have made so much progress on breaking the technology addiction.  It's especially evident when I'm around friends & family who are tied to their phones.  I was there.  I totally get it.  But I'm so much happier and content right now.