When I wrote out my goals for the new year, there was a very obvious theme that permeated through all aspects of my life.  Create boundaries for technology.  Set down the iPhone and social media.  And be more present.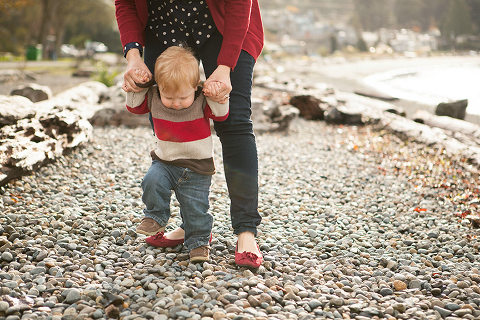 After setting the personal goal to 'be more present' this year, I scoured the internet for resources and compiled tips/techniques that resonated with me.  There were quite a few so I'd like to experiment with one habit per month.  I'll share my thoughts & progress here because so many of you have told me you're working on this as well.
My list for the first half of the year: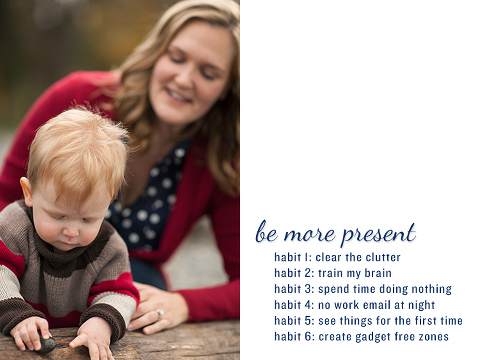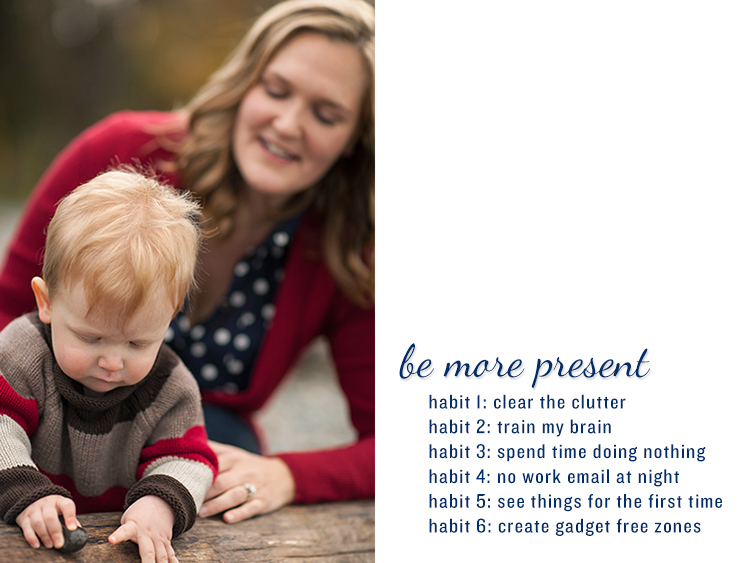 CLEAR THE CLUTTER
For me, clutter = distraction.  Both physical & internet clutter.
One fortunate outcome of our recent move is that we've significantly down-sized.  We've basically cut our wardrobes and possessions in half over the last two years [even while adding a baby to the mix].  It feels amazing to say physical clutter isn't currently an issue.
The most effective way to clear clutter?  Ask WHY you're holding onto the item.
"It'll fit one day."  Throw it away.  When that day comes, reward yourself with a new outfit.

"I might need it someday."  If more than a year has passed since you used it, throw it away. The clear space is more valuable than maybe purchasing another one years from now.

"The memories."  Take a photo of it & then throw it away.  The bridesmaid dress brings back memories, but you can also reminisce by looking through photos of you wearing the dress at the wedding.

"My kids will want it."  Throw it away.  They'll want to buy their own.  If it's something really significant, take a photo of it & create a small photo book of treasures.  Page through it with your kids.  Obviously if it's some type of family heirloom, hold onto it.

"It means so much to me."  Keep it.  Clearly it's worth the space it's consuming.
Internet clutter is where I personally will be focusing this month.  Here are the things I'll be doing:
Turn off phone alerts.  I turned off my email notifications and WILL NEVER GO BACK.  That pesky 'ding' ALWAYS takes my thoughts off the task at hand.

Unroll.me.  I discovered this GENIUS service last month.  It consolidates all of my subscriptions into one email each day [I had over 160 of them… WHAT?  I guarantee your number will shock you].  This has tremendously quieted my email inbox already.

Paper Karma app.  It's a free app that makes it easy to unsubscribe from physical junk mail.  Quickly snap a photo of that Pottery Barn catalog and the app will make sure you don't receive another one again!  [ok, this isn't technically internet clutter, but the app uses the internet so that counts, right?]

Gut Facebook.  I'm removing people from my newsfeed who are high-drama, over-the-top political, or super negative.  Ain't nobody got time for that.
Do you have more tips for ways I can clear internet clutter?  Please share by leaving a comment!
[thanks to Neyssa Lee for taking these photos of me & my little guy]