Oof.  [It's never a good thing when you begin a post with 'oof'.]  So far, I'm not doing well with my intent to 'be more present.'  The dang iphone keeps finding its way into my hands.  I know I shouldn't beat myself up… it's only been one month.
To recap, last month I focused on clearing the clutter, assuming less stuff = fewer distractions = being more present.  There were two simple tasks that drastically decreased the electronic clutter/distractions [I HIGHLY recommend BOTH!!]: turning off email notifications & using unroll.me.  But even without those distractions, I still struggled to focus on the present moment. I haven't found a way to silence the constant stream of to-do's that runs through my brain, while I should be focusing on this cutie.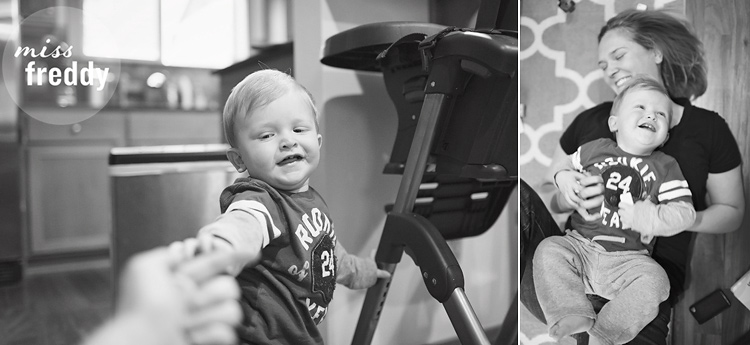 My habit for this month is TRAIN THE BRAIN  [see the list of habits here].  I hope I can use simple exercises to improve my attention.  Actually training my brain to focus longer.
Lumosity. I had seen plenty of commercials for their 'brain training', but didn't realize they offered a free app until my sister was using it over Christmas.  I have no idea if it works, but I will give it a whirl for 30 straight days.  It certainly can't hurt.
DuoLingo.  It's been years since I've challenged my brain in an academic way.  I'm interested in learning some basic Spanish [I assume Colin will encounter a foreign language in daycare/school and I'd like to be able to reinforce it at home].  A friend told me about a free app, DuoLingo, that makes learning a foreign language feel like playing games.  I'm also going to give this a try for 30 days.  Focusing on these 'games' will hopefully challenge my brain.
Have you used either of these apps?  Please share your thoughts below!