Food and thoughts of food consume an embarrassingly large portion of my life.  My days are commonly planned in terms of breakfast/lunch/dinner.  And my meal planning is what helps keep my household running smoothly.  When visitors come, my most frequent question is 'what should we feed them?'  And when we travel, my primary concern is typically 'where we will find our next meal?'
I read many food blogs and even more articles about our food supply.  I don't think it's an unhealthy obsession at all.  Except, for how much of my time is spent consuming or preparing food, I rarely talk about it.  In fact, I have never written a blog post about food.
Truthfully, it's because my skills in the kitchen are nothing to write about [and I don't know much about food photography- a critical component of a blog post about food]. Don't get me wrong, I'm great at following a recipe.  I cannot, however,  look in my fridge and whip up something delicious with the ingredients on hand, never measuring a thing!  Nope… for me, I need proper instructions.  And with those, I can cook & bake almost anything.
EXCEPT PIE.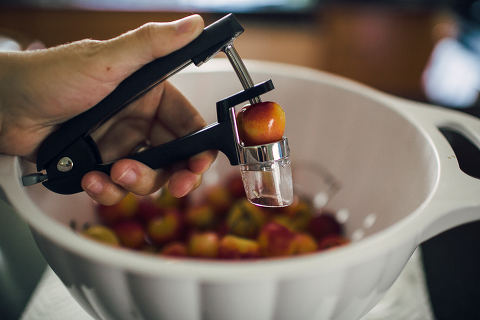 It's totally silly, I know.  That a sweet little thing like a pie frightens me.  Cookies?  Harmless.  Cake?  Sure, coming right up.  Cupcakes?  Let's bake a whole bunch!
But, you want a pie?  Excuse me while I cry in the corner of my kitchen.
I told myself I didn't even like pie and why would I waste time baking something I don't want to eat?  Except then we spent the 4th of July at my parent's cabin, in a tiny town in northern Wisconsin where the highlight of the celebration was the pie stand.  The little old ladies from town bring their pies to the stand, available by the slice or pie- there must have been over 40 varieties!  I devoured FOUR KINDS OF PIE.  [Yes, I ate four pieces of pie.]  Maybe it was the pregnancy.  Maybe it was all those years of denying myself of this treat.  Or maybe, just maybe, I actually really enjoy pie.
Now I have no choice but to stop living in fear and learn how to bake a proper pie.  Those old ladies may have years & years of experience on me, but they started somewhere too.  And so… my new personal project: keep baking pies until it's no longer scary.  For some reason, I think this means twelve pies.  Only time will tell, I suppose.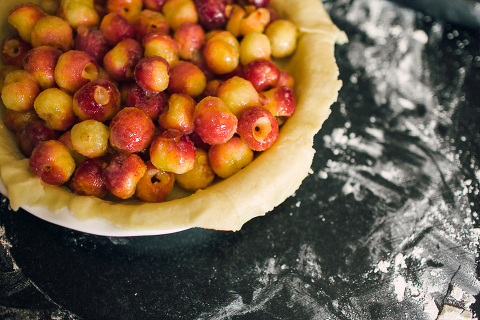 Since we received three pounds of Rainier cherries in our CSA box this week [hooray!], a cherry pie seemed like the most logical place to begin.  I went to a cookbook that's never let me down to find the best pie crust recipe.
All Butter, Really Flaky Pie Dough
from Smitten Kitchen

2 1/2 cups flour
1 tablespoon sugar
1 teaspoon table salt
2 sticks (8 ounces or 1 cup) unsalted butter, very cold
1/2 cup water, ice cold

In a food processor, combine flour, sugar and salt with a few quick pulses.  Cut the butter into a small dice and scatter the pieces over the flour.  In quick pulses, let the machine work the butter into the flour, stopping as soon as the largest pieces of butter are the size of small peas.

Transfer to large bowl.  If butter has warmed up a bit, place bowl in freezer for 5 minutes to cool it down again.  Drizzle the ice water over the dough and gently stir it together.   Knead the dough together, working quickly so as to warm it as little as possible.

Wrap the ball of dough in plastic wrap and chill in the fridge for 2 hours.

When you're ready to make your pie, dust your counter generously with flour and split your dough in half to make two separate crusts.  Roll into large rounds.  If dough becomes sticky while rolling, put it back in the freezer for a few minutes.
And after pitting all those lovely cherries [using this tiny genius!] I was ready to attempt the filling.
Sweet Cherry Pie
from Smitten Kitchen

4 cups pitted fresh cherries (about 2 1/2 pounds unpitted)
4 tablespoons cornstarch
2/3 to 3/4 cup sugar (adjust this according to the sweetness of your cherries)
1/8 teaspoon salt
Juice of half a lemon
1/4 teaspoon almond extract
1 tablespoon cold unsalted butter, cut into small bits

1 egg, beaten with 2 tablespoons water
Coarse sugar, for decoration

Preheat oven to 400°F.

Stir together the cherries, cornstarch, sugar, salt, lemon and almond extract gently together in a large bowl.

Spoon filling into pie crust, discarding the majority of the liquid that has pooled in the bowl. Dot the filling with the bits of cold butter.

Roll out the remaining dough into a 12-inch round on a lightly floured surface, drape it over the filling, and trim it, leaving a 1-inch overhang. Fold the overhang under the bottom crust, pressing the edge to seal it, and crimp the edge decoratively. Brush the egg wash over over pie crust, then sprinkle with coarse sugar.

Cut slits in the crust with a sharp knife, forming steam vents, and bake the pie in the middle of the oven for 25 minutes. Reduce the temperature to 350°F. and bake the pie for 25 to 30 minutes more, or until the crust is golden. Let the pie cool on a rack.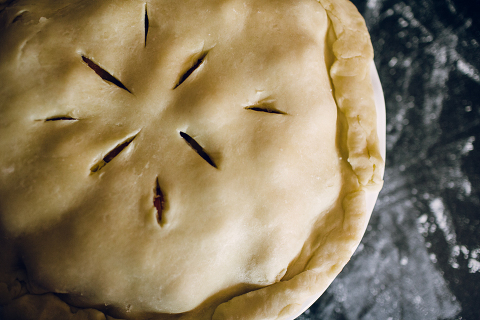 Looks SO beautiful, am I right?
While the pie was baking, I was thinking 'gosh, maybe it won't take me twelve pies to conquer my fear.  It kinda looks like I nailed this.'  Only problem was I'd never say 'no big deal… I'll whip up another tomorrow!'
Except it turned out there was a much, much bigger problem.  The pie crust was beautiful & flaky, but the inside was complete SOUP.
… thus reaffirming the point of this personal project.  And so I will bake more pies & chronicle my successes/failures very publicly right here.
Based on a quick google search & very helpful Instagram followers, I've learned a few lessons:
Cherry pie can be complicated because the acidity may counteract the thickening abilities of cornstarch.  Next time try increasing the cornstarch or use another thickening agent like quick-cooking tapioca.  [Or probably just making sure the cornstarch is not very much expired.  Doh.]
Bake for another 5-10 minutes.  I baked mine at the lower end of the range [because I couldn't wait to get my hands on the pie] which clearly wasn't enough.
Put the pie in the fridge to set and then warm it up to serve.  [my soup was just a bit too soupy for this trick]
What do you think of this personal project?  Have you had any interesting adventures in pie making?