You guys!  I did it!  This is the final blog series of the year.  For any new friends, this year I've been devoting one week a month to a themed blog series with daily blog posts.  I've talked all about project life, shared some 'wish someone told me sooner' parenting advice, written about ways to preserve your memories/photos, revealed our favorite things in West Seattle, taught a few easy photo editing tips, celebrated my third birthday, shared ideas for documenting childhood, revealed my favorite apps, given ideas for fun ways to use your photos, dished about my family's favorite recipes, and created some fun DIY photo gift ideas, and now I'm sharing my family's favorite Christmas traditions!
---
When John and I were dating, his brother invited us over for an early Christmas dinner.  He's a really talented cook so, of course it was delicious, but the part of the meal that really rocked my world was dessert.  He served homemade caramels (a family recipe) and they literally melted in my mouth.  He gave me a to-go bag and I couldn't control myself around them- they disappeared almost instantly.
A couple years ago I asked him for the recipe.  I thought homemade candy would be a "sweet" gift to give my neighbors for Christmas and I knew HIS recipe was the absolute best.  He warned me there was a little bit of a learning curve to making caramels yourself (truth) but that I'd get the hang of it.
He was right.  The recipe is simple, but getting just the right (melt in your mouth) consistency is tricky and takes practice.  The caramels can vary from gooey to hard (more like Werthers) if you change the temperature you cook them to by just a couple degrees.  If it's helpful, I use this candy thermometer and these wrapping papers.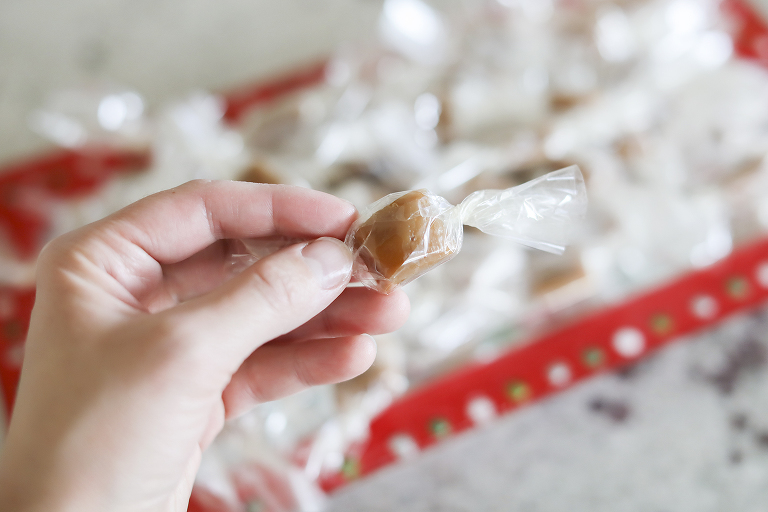 Ingredients
1 cup sugar
3/4 cup light corn syrup
1 tbsp molasses
1/2 cup butter
1 cup heavy cream
1/2 tsp vanilla
Instructions
Combine sugar, corn syrup, molasses, butter and 1/2 cup cream. Bring to boil over medium heat, stirring constantly.
Add remaining 1/2 cup cream and cook slowly until your candy thermometer reads firm-ball state (248 degrees).
Remove from heat and add vanilla.
Pour into greased 8x8 square pan. Mark into squares when partially cool. Cut when cold.
Wrap caramels in squares of wax paper.
Keep in airtight container.
https://missfreddy.com/personal/christmas-traditions-homemade-candy/
---
More Christmas traditions are coming all week long!  If you'd like to receive a summary in your email inbox at the end of the week, enter your email address here!