When I found out I was pregnant with Colin, I created an account with babycenter.com.  For free, they send weekly emails through your pregnancy sharing baby's development (and the fruit/vegetable most resembling baby that week).  As an extra bonus, you're automatically added to a "Birth Club" discussion board for all moms with due dates in the same month as yours.
Expecting moms use the forum to compare notes on pregnancy symptoms, weight gain, anxieties/fears, creating registries, baby gear advice, things you're too embarrassed to ask your 'real-life' friends, etc.  Really anything goes.  I checked in a couple times a month, reading interesting posts & occasionally commenting.  [I found my group in particular was fairly high-drama so I didn't have the interest for more involvement than that].
When Colin was just a couple weeks old, I was doing a middle of the night feeding and decided to log in.  I wasn't sure if the group would still be active now that the babies had arrived [boy, was I wrong- newborns come with LOTS of questions!] and I scanned the board for interesting topics.
One caught my eye:  "Now that your pregnancy is over, what would you do differently next time?"
I started pondering my personal answer [NOT selling a house, packing & moving during the first trimester, if I can help it] and was anxious to see what the other 'experienced moms' in the group had to say.
"I really, really wish I'd gotten professional maternity photos."
"I would have hired a professional photographer to document me & my husband while we were expecting."
"I wanted to save money so I didn't get maternity photos and now I realize I can't go back and do it over.  Next time, I'll get professional photos for sure."
It was the overwhelming theme.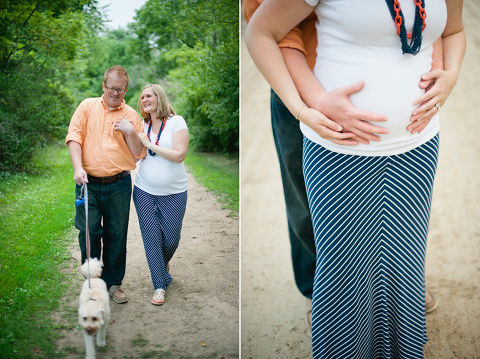 In that moment, I was so very grateful for my own maternity photos.  Now that I have a toddler running around, I appreciate these photos even more.  The sweet simplicity of our lives as just two (and Colby Jack).  How much fun it was to experience our very first pregnancy.  And how much I love our little family (then AND now).
To be honest- we almost didn't take those photos.  Typically, I like to get updated photos once a year [for Christmas cards] and with baby arriving in November, I wouldn't want to include maternity photos on the card when I'd have photos of the actual baby.  Our maternity photos, taken over the summer, seemed like an unnecessary expense and we were on a tight budget [John had just started grad school].
The excuses don't matter- all that's important now is THE PHOTOS WERE TOTALLY WORTH IT.
So, whether you're expecting your first child or your fifth, I encourage you to listen to the advice of the 'experienced moms' and get professional photos taken while you're pregnant.  I don't care if you've gained all your pregnancy weight in your face, your butt, or your belly.  Let's get together and document this moment before it's too late.
photo credit:  the fabulous Melissa Oholendt!