This year I've been devoting one week a month to a themed blog series with daily blog posts.  I've talked all about project life, shared some 'wish someone told me sooner' parenting advice, written about ways to preserve your memories/photos, revealed our favorite things in West Seattle, taught a few easy photo editing tips, celebrated my third birthday, shared ideas for documenting childhood, revealed my favorite apps, given ideas for fun ways to use your photos, and this month is all about MY FAVORITE RECIPES!
---
So, let's get started with my favorite BREAKFAST recipe.  This recipe is a Christmas morning tradition in my family.  I've made it myself many, MANY times and the best part is it's SUPER forgiving.  You can add in any veggies you like… or no veggies at all… and it tastes delicious either way.
easy make-ahead breakfast egg bake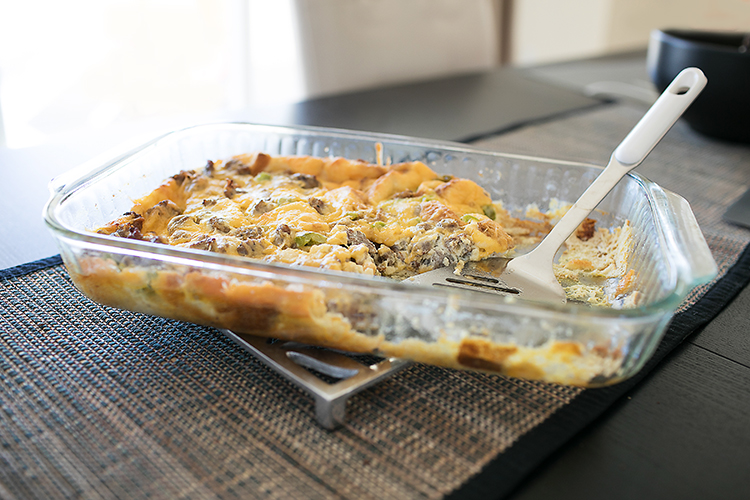 Really, the only mistake you can make with this recipe is using a "healthy" variety of bread.  I've tried substituting whole wheat bread on multiple occasions and it ruins it every time.  Stick with the cheapest, whitest bread (think Wonderbread) and you'll get the most delicious outcome!
make ahead breakfast egg bake
Ingredients
1 lb mild sausage
6 eggs
2 cups milk
1 tsp salt
½ tsp dry mustard
6 slice white bread, cut in cubes (wheat bread just doesn't taste as good in this!)
1 cup grated cheddar cheese
Optional veggie additions: red pepper, green pepper, mushrooms, tomatoes, onions
Instructions
Fry sausage and drain.
Beat eggs in a bowl. Add milk, salt and dry mustard. Then mix in sausage and veggies (if using).
Line 9x13 pan with bread cubes. Pour egg mixture over top.
Refrigerate overnight.
In the morning, sprinkle with cheese and bake 40 minutes at 350.
ENJOY!!
https://missfreddy.com/personal/favorite-recipes-egg-bake/
---
More delicious recipes are coming all week long!  If you'd like to receive a summary in your email inbox at the end of the week, enter your email address here!