This year I've been devoting one week a month to a themed blog series with daily blog posts.  I've talked all about project life, shared some 'wish someone told me sooner' parenting advice, written about ways to preserve your memories/photos, revealed our favorite things in West Seattle, taught a few easy photo editing tips, celebrated my third birthday, shared ideas for documenting childhood, revealed my favorite apps, given ideas for fun ways to use your photos, and this month is all about MY FAVORITE RECIPES!
---
This week I've shared my favorite recipes from breakfast through dinner.  To recap, I gave my favorite make-ahead breakfast dish, my go-to appetizer, my family's favorite dinner recipe, a collection of my favorite freezer/crockpot meals, and I saved the best for last because today we discuss… DESSERT.
"Em's brownies"… aka my favorite brownie recipe
My senior year of college, I lived in a townhouse with three other girls.  Four women sharing a house means drama, laughter, tears, binge watching lots of TV, a whole lot of PMS, and of course… baked goods.  Thankfully, one roommate in particular was especially skilled in the kitchen and made sure that nearly every Friday afternoon, when classes were over, we came home to freshly baked brownies.  (It's no wonder I gained 10 pounds while living in that house!)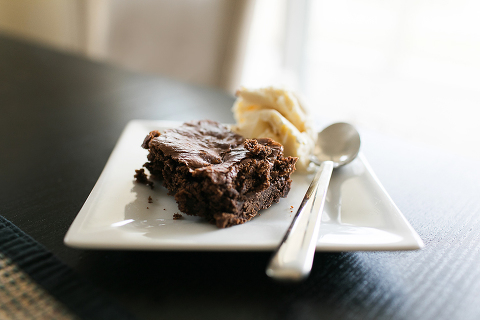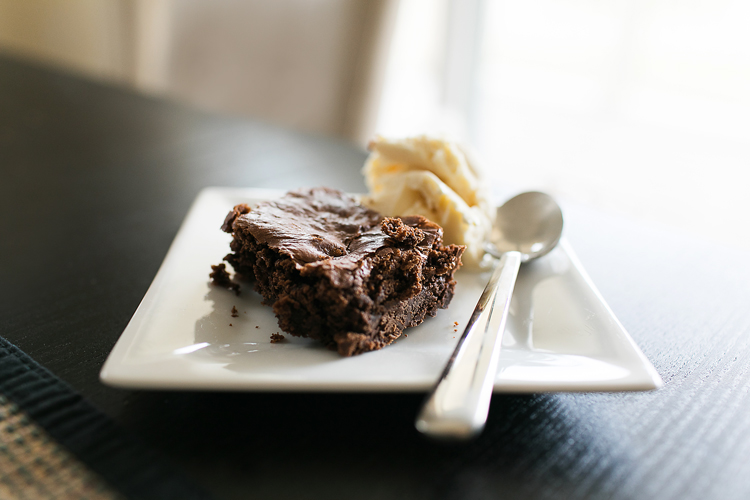 I took the recipe with me after graduation and, while I don't make them once a week, these are my go-to dessert recipe.  They taste similar to Ghirardelli brownie mix, but even better since they're from scratch.  I also love that the recipe makes a very manageable 8×8 or 9×9 pan instead of a bigger one.  Because, though I often want just one brownie, I can never control myself.  Serve them warm with vanilla ice cream and I'M DONE.  YUM.
Ingredients
2 tablespoons butter
2 tablespoons water
1/2 cup sugar
2 eggs
1 teaspoon vanilla
2/3 cups flour
1/4 teaspoon salt
1/4 teaspoon baking soda
2 cups semi-sweet chocolate chips
Instructions
Over medium heat, stir butter, water & sugar in a medium saucepan until melted. Take off heat.
Add 1 cup of chocolate chips to the mixture and stir until melted.
Add eggs and vanilla. Stir. Add flour, salt and baking soda.
Mix in 1 cup of chocolate chips until barely mixed in.
Pour in a greased 9x9 pan. Bake at 325 degrees for 25 minutes.
https://missfreddy.com/personal/favorite-recipes-ems-brownie-recipe/
Go ahead, I challenge you to eat just ONE brownie.
---
Well, that wraps up another blog series week!  I hope you enjoyed my favorite recipes.  I feature a new series every month so considering signing up for my newsletter so that you don't miss November's!