It's no secret that we don't have a lot of space.  I think the builders of our townhome were high [well, it IS legal here] when they designed the closets in our unit.  Our bedroom closet, that I share with my husband, is hardly big enough for one person.  And don't get me started on the baby's room [what closet?].  No basement.  No attic.  Our car hardly fits into the single-stall garage, let alone find room for storage.  As we moved in, we filled every.last.inch.
And it was exactly enough space.
I looked at John and said 'well, it's all in here.  But… NO MORE STUFF.'
Enter:  the holiday season.  Every year, we drive away from our Christmas visits in a car overflowing with gifts.  Our families & friends are so generous.  This time of year fills my heart AND my home.
So, inspired by our personal space constraints, here's a holiday gift guide that's a little different.  My gift ideas for a clutter-free Christmas!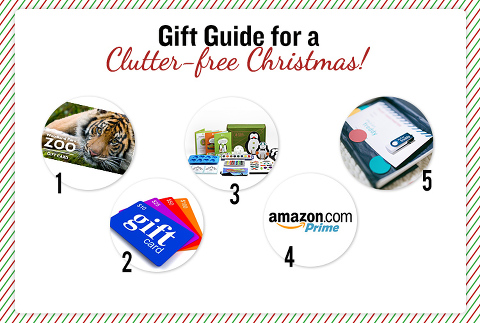 1) Membership to the local Zoo or Aquarium.  This is the gift that keeps on giving [literally].  Kids obviously love these destinations.  But more than that, for a full year, mom & dad have an easy outing for the family… for FREE.
2) Gift cards.  Challenge yourself to think about cards that won't add more STUFF.  Amazon & Target are always a favorite, but why not try a gift card for a movie theater + a restaurant for a fun date night.  Or a night away at a neat destination [like a luxury treehouse!]  A day at the salon/spa [hint: my personal fave, if you're needing gift ideas!]  Or, for the gym rat, a session with a personal trainer.  Experiences make great gifts.
3) Kiwi Crate.  I JUST discovered Kiwi Crate and I'm in LOVE.  I so want to be a crafty momma, but I'm just NOT.  Enter Kiwi Crate- a box shows up at your door (one time or subscribe for monthly deliveries) and it includes everything you need to create a fun, hands-on, educational project!  In my opinion, this is a gift for mom just as much as it is for kids.  Here's a closer look inside a holiday-themed box:

4) Amazon Prime Membership.  Amazon announced yesterday that you can now give the gift of prime!
 Boy, do I ever get my money's worth out of my Prime membership.  Free 2 Day shipping [I know, I said no more STUFF, but we mostly just order necessities].  Instant video streaming of over 40,000 free movies/TV shows.  A free kindle book library.  And it seems they keep on adding more perks.
5) Photo Session.  You cannot have too many pictures.  Really.  It's impossible.  You're telling me Grandma doesn't want a nice photo of her with all the grandbabies?  Or that you wouldn't love to have a fun photo of you, interacting candidly with your own kids, to remember THIS moment in your life?  It's a great gift for anyone.  Want a smoking deal on photo sessions with Miss Freddy?  Become a fan on facebook to be notified of my Black Friday special!
Disclaimer:  This post contains affiliate links. If you purchase a product through an affiliate link, I receive a small commission.  I only share products I know & love!