During my first week of work, post college graduation, I came to a crazy realization:  "I can just eat cookies for dinner tonight and no one will know." [my mom cringes as she reads this]  I had just settled into an apartment, in a new city, and I was living on my own for the first time in my life.  My mom & dad had helped me move in and stocked my fridge before they left town.  I came home from work and stared blankly at the full fridge.  I was so hungry.  And so impatient.  And so tempted by the box of cookies in the cupboard.  And for the first time in my life, I was living alone and realized NO ONE WILL KNOW.
That night, I ate only cookies for dinner.  And now you all know.
---
Making dinner has always been a struggle for me.  When I'm hungry, it takes over.  I lose patience.  I get cranky.  And pretty much straight up unpleasant.   [I love the term 'hangry' because that's totally me!]
After marrying a wonderful man who considers 'cooking' to be microwaving a Lean Pocket, I started to feel the pressure in the kitchen.  We were both working full time and ending the day exhausted.  It was around that time that I started experimenting with meal planning– spending a few minutes on the weekend choosing meals for the week.  I grocery shopped accordingly & somehow the plan helped keep those hangry feelings at bay.  [I also experimented with various meal planning services, 15 minute meal or crockpot cookbooks & weekend prepare ahead meals… but more about that in a post coming next week!]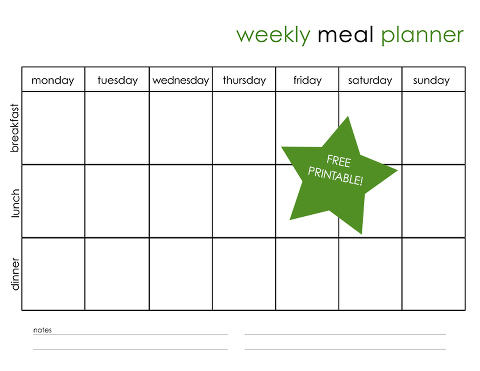 Keeping it real… we have been married almost 6 years now and there have been way more weeks where I did NOT pull a plan together.  But now that I'm staying at home, have a hungry toddler to feed & am focusing on feeding my family 'real food', menu plans are my lifeline.  Also, it's pretty typical for me to leave most breakfast & lunch squares blank because I only pre-plan my dinner menus.  Breakfast & lunch are much easier for me to 'just wing it' (and usually it's leftovers).  What can I say?  Sometimes I just like to live on the edge like that.  [tip:  I find it's helpful to have breakfast/lunch/dinner listed, especially when we are planning ahead for visitors!]
free download
Want to give meal planning a try?  Go ahead and download my free printable!  Print it off, fill it out & pop it on the fridge inside one of these awesome magnetic holders!
And stay tuned for next week when I share some of my favorite quick & healthy weeknight dinner recipes!  [subscribe to my blog to make sure you don't miss it]