I'm no good at building suspense so I'm not even going to wait until the end of this blog post to let you know that THIS PIE ACTUALLY TURNED OUT!
---
After deciding to bake as many pies as it takes for me to be comfortable saying 'I'll just whip up a pie" [a commendable life goal, yes?],  I failed pretty miserably on my first attempt.  I was so confused & a bit defeated… I followed the directions exactly.  Yet my pie turned out nothing like the recipe photos [yummmmm, cherry pie soup!]  Cupcakes would never do that to me.  Why does pie have to be such a bitch?
Then this weekend, our little townhome community had a block party and everyone was asked to bring a dish.  I had a bunch of peaches from our CSA box and thought it could be a great opportunity to attempt another pie.  Except, with my track record, I couldn't really be confident one of MY pies would be acceptable for PUBLIC consumption.  Therefore, I picked up a frozen Trader Joe's key lime pie and secretly stashed it in the freezer.  If the peach pie was a flop, the neighborhood would be none the wiser.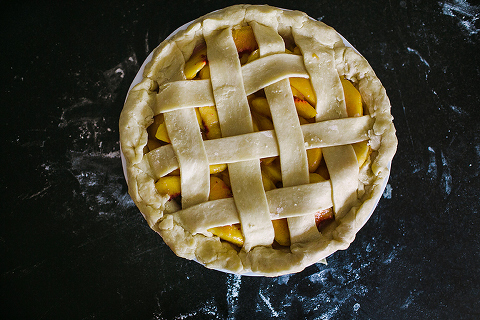 Since I really enjoyed the pie crust of my cherry soup failure, I repeated that recipe from a cookbook that's never let me down.
All Butter, Really Flaky Pie Dough
from Smitten Kitchen

2 1/2 cups flour
1 tablespoon sugar
1 teaspoon table salt
2 sticks (8 ounces or 1 cup) unsalted butter, very cold
1/2 cup water, ice cold

In a food processor, combine flour, sugar and salt with a few quick pulses.  Cut the butter into a small dice and scatter the pieces over the flour.  In quick pulses, let the machine work the butter into the flour, stopping as soon as the largest pieces of butter are the size of small peas.

Transfer to large bowl.  If butter has warmed up a bit, place bowl in freezer for 5 minutes to cool it down again.  Drizzle the ice water over the dough and gently stir it together.   Knead the dough together, working quickly so as to warm it as little as possible.

Wrap the ball of dough in plastic wrap and chill in the fridge for 2 hours.

When you're ready to make your pie, dust your counter generously with flour and split your dough in half to make two separate crusts.  Roll into large rounds.  If dough becomes sticky while rolling, put it back in the freezer for a few minutes.
And since Deb seems to know a thing or two about pies, I gave her peach pie recipe a try as well.
Peach Pie
adapted from Smitten Kitchen

3-4 pounds of peaches (approximately 6 large, 7 medium or 8 small)
1 tablespoon fresh lemon juice, from about half a regular lemon
1/3 cup granulated sugar
1/3 cup light brown sugar
1/8 teaspoon ground cinnamon
1/8 teaspoon table salt
3 tablespoons cornstarch (I may have thrown in an extra tablespoon to really make sure this didn't soupify)

1 tablespoon milk or water
Coarse sugar, for decoration

Preheat oven to 425°F.

Bring a large saucepan of water to boil. Prepare an ice bath. Make a small x at the bottom of each peach. Once water is boiling, lower peaches, as many as you can fit at once, into saucepan and poach for two minutes. Using a slotted spoon, transfer to ice bath for one minute to cool. Transfer peaches to cutting board and peel the skins. In most cases, the boiling-then-cold water will loosen the skins and they'll slip right off. In the case of some stubborn peaches, they will stay intact and you can peel them with a peeler.

Halve and pit the peaches, then into about 1/3-inch thick slices. Add to a large bowl and toss with lemon juice. In a small dish, stir together sugars, cinnamon, salt and cornstarch until evenly mixed. Add to peaches and toss to evenly coat.

Place pie dough in standard pie dish.  Scoop filling into bottom pie dough, including any accumulated juices (I didn't include ALL of the juice, again for fear of another soup incident). To make a lattice-top pie, cut the top pie dough into strips anywhere from 1/2 to 1-inch wide with a pizza cutter. Arrange the strips over the top of the filling. Gently fold the rim of the bottom crust over the lattice strips and crimp decoratively.  Brush pie with milk or water and sprinkle with sugar.

Bake pie for 20 minutes at 425°, until the crust is set and beginning to brown. Reduce oven temperature to 375° and bake pie for another 30 to 40 minutes, until filling is bubbling all over and the crust is a nice golden brown. If the pie lid browns too quickly at any point in the baking process, you can cover it with foil for the remaining baking time to prevent further browning.

Cool pie for three hours at room temperature before serving (this helps with thickening).
So, what do you think?  Looks pretty good, amiright?!  Definitely acceptable for public consumption, but I still haven't mastered the craft by any means [it took me all afternoon to 'whip up' this guy and it most certainly was not 'easy'].  But practice makes progress!
I'm thinking my next pie project will be apple pie.  Tis the season, right?  Have an amazing apple pie recipe?  Please share!