While decorating for Christmas, I was looking for a simple way to add more holiday cheer to our family room.  My DIY abilities are non-existent and my craft supplies are lacking, which cut out most of the things I found on Pinterest.  I also didn't want to invest in decor that would take up storage space [because we have none] and I found the perfect solution:  a decorative banner!
It is the simplest thing to do:  print, cut, punch holes, thread string, and VOILA!  No, really, absolutely anyone can do this.  With supplies you already have on hand.
I loved our Christmas banner so much that I was sad to take it down.  I looked for a cute Valentines option to replace it, but didn't find anything I liked.  So, I decided to design two of my own and share them with you!
Grown Up Valentines Banner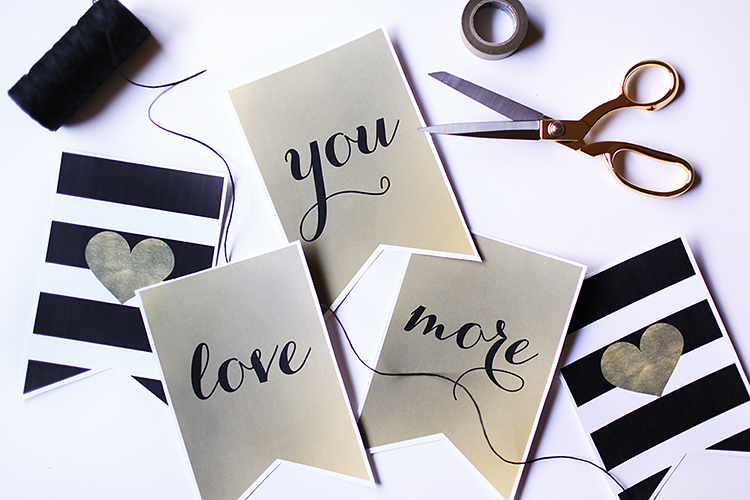 I used "love you more" because it's a very subtle Valentines message and would be appropriate to display year-round.  The design was inspired by one of Jillian's onesies [my current fave]- black & white striped with a shimmery gold heart.
I recommend printing on a thicker cardstock [like this one] for a sturdier banner.  I used this black twine & this gold washi tape to hang it.  So very simple!
Love it?  Download the Grown Up Valentines Banner for FREE!
Kids Valentines Day Banner
Have a little one who loves to show off their artwork on the fridge?  This banner design will be a hit!  It'll make their day/week/month when you display their work on a larger scale ALL SEASON LONG!
All YOU need to do is print.  Then let your kiddo work on coloring/painting skills, review letters/shapes, and practice cutting with scissors.  The FREE download includes LOVE, XO, and heart designs.  Print & arrange in any number of ways!
Again, I recommend printing on a thicker cardstock.  Colin [my 2 year old] provided his artistic skills and then I used this red twine & this red washi tape to hang it.  Easy peasy!
Must have?  Download the Kids Valentines Banner for FREE!
Happy Valentines Day!
Disclaimer:  This post contains affiliate links. If you purchase a product through an affiliate link, you will pay the same price, but I receive a small commission.  Obviously I only share products I love from companies I trust.