What's for dinner?  Ugh, I shudder at this question.  You mean you guys want dinner again?  I just cooked dinner last night!  [mommas, do you hear me?!]
solving the dinner dilemma
I've tried many methods for getting dinner on the table quickly.  There were a few months where I never made dinner with more than 5 ingredients [that got old FAST].  Then, I thought I found an amazing solution where I prepped five meals in just one hour on Sunday evening [worked well, but relies on processed ingredients].  And then two years ago, I purchased a subscription to The Fresh 20 which was genius!  I followed their weekly meal plans pretty religiously for more than a full year.  I loved that my family was eating real food recipes with fresh ingredients and that I didn't have to put much effort into planning recipes for the week.
A couple months into the 'program,' my husband started to complain.  The Fresh 20 meals are good, yes, but it's a new meal every single night.  No opportunity to repeat our favorites.  My husband started making special requests for certain meals.  But, picking & choosing from archives defeated the efficiency of their pre-planned meal plans.  I started to get tired.  I was putting so much effort into preparing these fresh meals every night, with no concept of how they'd turn out.  I knew a weight would be lifted off my shoulders if I could just prepare recipes we already knew & already loved.
Around that time I caught an episode of 19 Kids & Counting where Michelle Dugger talked about getting dinner on the table for her enormous family. [what the hell am I whining about?  she has NINETEEN mouths to feed!]  Her secret is a four week calendar of their family's favorite recipes that she repeats every month.  Hmmm… that could work!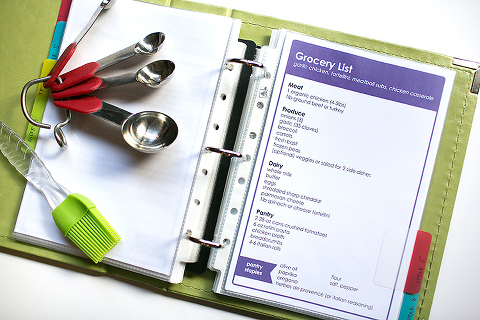 the dinner solution
I sat down at the dinner table with all my favorite cookbooks, opened to the dog eared, most visited pages.  And stacks of printed recipe pages, all crinkly and well loved.  I asked my husband for his favorite meals that I'd made in our five years of marriage.
We ended up with 24 amazing recipes.
I organized these recipes into a six week rotational program.  I tried to make sure there was enough variety each week, but not so much that the weekly ingredient list got too lengthy.  We found that six weeks is the ideal rotation for us- four weeks seemed limiting and like the recipes may get a bit 'stale.'
Each week consists of four total recipes.  This was the 'sweet spot' we found after our years of meal planning experience.  More than four and I feel like I'm drowning in leftovers & constantly cooking.  For my family, four fresh meals means one night of leftovers, one 'easy' night (ie: grilled cheese, pizza, breakfast for dinner), and one night out.  It also affords us the opportunity to test out new recipes, if a craving strikes.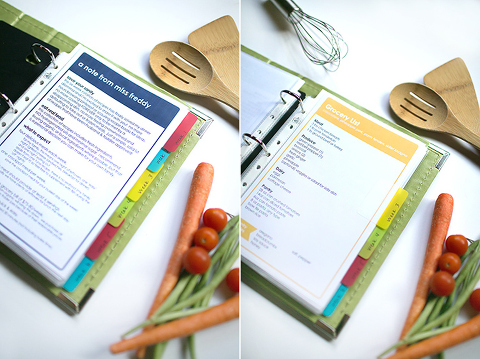 give it a try!
This has worked so well for my family that I encourage you to do the same with YOUR family's favorite recipes!  Yes, it's a bit time consuming to gather & organize all your recipes into a calendar, but it's totally worth it in the long run!
Ain't got time for that?  You can download a FREE COPY of my family's meal plan (scroll down for the link)!  Here's what you can expect:
24 total recipes that are husband & toddler approved!
An emphasis on 'real' food and fresh ingredients [plus a page outlining Miss Freddy's 'real food tips'!]
6 weeks of meal plans, including convenient grocery shopping lists.
4 recipes each week– there is always

one crockpot meal

for extra convenience on your busiest day!
Quick & easy recipes.  Prep shouldn't exceed 30 minutes per night (baking or idle cook time not included).
Meals that provide 5-8 servings.  We

always

have leftovers for lunch the next day!
No vegetarian or seafood recipes (except one tuna dish)- you can incorporate these types of dishes on your nights 'off', but they don't fit into my family's preferences.
A digital recipe book version for use on smart phone, tablet, or computer.
Printer friendly files with instructions for assembling your own physical recipe book.
The return of your sanity!