Woohoo!  Miss Freddy is trying something new:  SUMMER family mini sessions! 
Since my summer booked up a teeeeny bit quicker than I anticipated, I wanted to offer a solution for any clients (old or new!) who may not have snagged a spot on my calendar.  A SUMMER MINI SESSION is a perfect way to get quick, updated family photos for a great price.  With a mini session there is time for family & individual photos so it's ideal for a baby milestone or, really, just because you want to show off some shiny new photos of your beautiful kids to the grandparents (or let's be honest… facebook!).  My digital files come with a print release so you can print/make gifts at any retailer you prefer (and I'll share my favorite print companies with you too).
Looking ahead:  if you're a planner like me, know that I will still be offering one more round of mini sessions before the end of the year so you can get holiday card photos (likely the first or second weekend in November).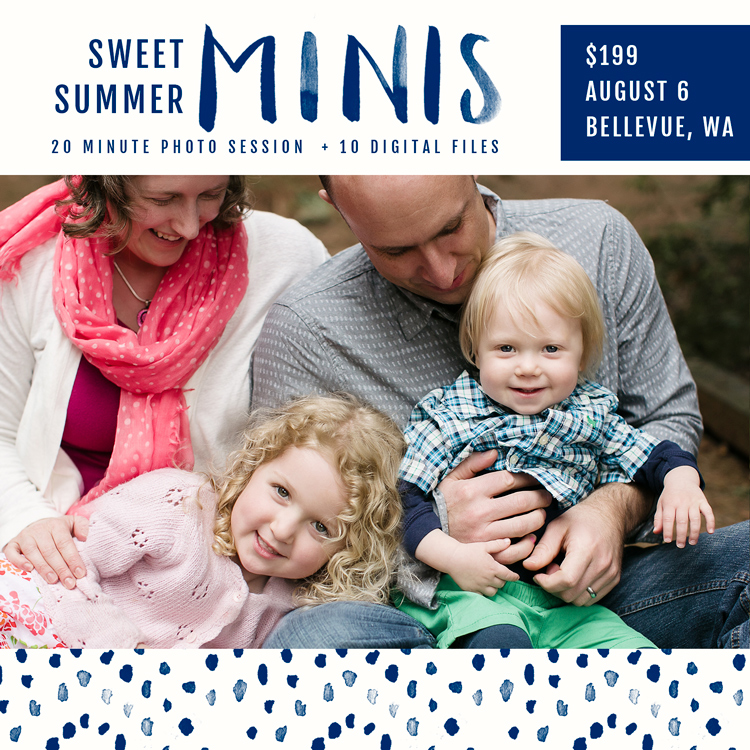 seattle summer mini session details
when:  the morning of Saturday, August 6th
where:  a quiet park in Bellevue
what:  a 20 minute photo session + 10 high-resolution digital images with print release
how much:  $199 + tax
Note:  A summer mini session is ideal for families of 5 of smaller.  If you'd like photos of a larger family, consider booking two back-to-back mini sessions so that we have enough time to accommodate everyone.
book now!
——————————-
THIS EVENT IS CLOSED
——————————-
Still not convinced?  Check out more fun photos from this year's spring mini sessions!
Want to be notified of upcoming events/specials?  Sign up for my newsletter!