You may recognize little Delphine because she celebrated her first birthday with me last summer, but for her winter session she brought along some guests:  her grandma & grandpa!  We got together for a fun morning at the McMurtrey's Christmas tree farm.  It was early in the season, before the farm had opened to the public, so we had the place to ourselves (thanks again to the sweet owners for allowing us to use their beautiful property).
Isn't Delphine's little outfit TO DIE FOR?  I seriously want the entire ensemble in adult size.  I love how Mom coordinated everyone for this session… they look SO good against the lush green backdrop of trees.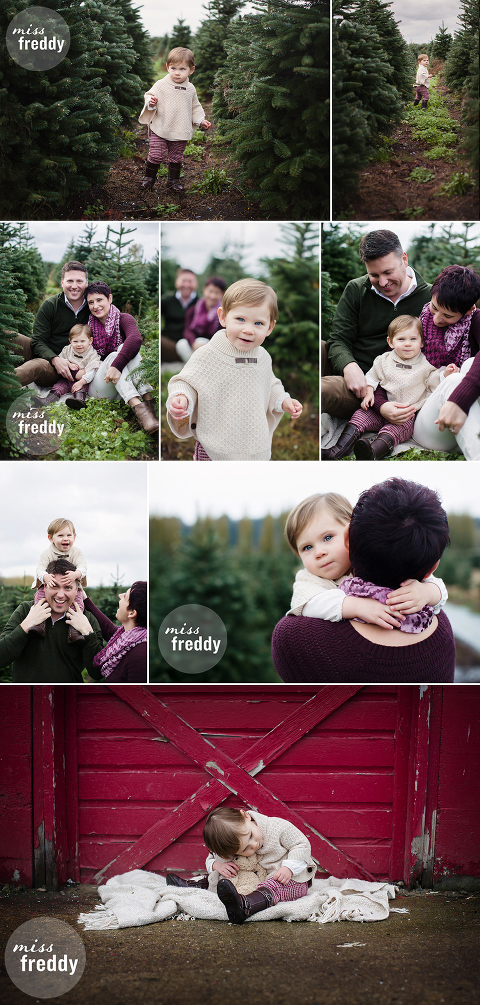 We wrapped up with a quick stuffed animal snuggle session just as the rain clouds rolllllled in…. we were lucky that the clouds parted (literally) for our session.  I'm glad Delphine's grandparents could join us for the fun!
Seattle is a city full of transplants, but if you're lucky enough to have family here, consider inviting them along for photos.  Or… arranging a professional photo shoot while family is in town for a visit is a special way to create memories that everyone will enjoy long after they return home.
want to work with miss freddy?
Great!  I can't wait to capture beautiful & timeless images of your fun-loving family!  You can learn more about me, my style & my pricing HERE!  And sign up for my newsletter to be notified about new local photo events, specials & special pre-sale opportunities!