Maybe it's because half of the country is getting pummeled by snow right now, but as I was sorting through images from this session to share on the blog, I found myself longing for summer something fierce.  The sun highlighting their faces & making the leaves sparkle behind them.  The warm wind moving through mom's hair & ruffling little Chloe's beautiful [sleeveless!] dress.
Yep.  Summer in Seattle is the BEST.
This sweet family signed up for my The First Year package so at this point I've already met little baby boy [his name is Marcus] and I am about to shoot his SIX MONTH photos.  Crazy how quickly that happened.  Life starts moving at super speed when you have kids, am I right?  [All the more reason you require photos to document it!]
Anyway, back to THIS session.  Big sister Chloe was absolutely precious.  When Daddy said 'where's Marcus?' she gave Momma's belly the sweetest little pat [see below].  I melted.
And since we were at Lincoln Park in West Seattle… in the summer… of course we HAD to swing by the beach for a quick photo.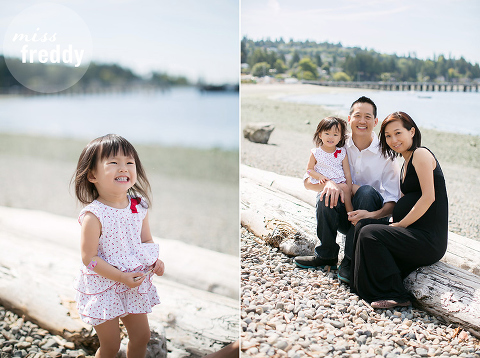 Like I said… summer in Seattle is the best.  [although this family moved here from Hawaii so they may disagree with me.]
expecting a baby?
A photo session with Seattle maternity photographer, Miss Freddy, is the perfect way to document your pregnancy.  Get a discounted [or FREE!] maternity photo session when you book a Newborn Special or First Year package.  Maternity photos are best at the beginning of the third trimester so contact me during your second trimester to schedule your session!