This year I drastically streamlined my product offerings.  I had my reasons:  1) your decision is now easier,  2) my process is simpler and 3) there are already photo products on the market at prices I can't compete with  (ie: groupons for 24 x 36 canvases at only $40!) and I want you to take advantage of these deals using the digital files from your session.
The result is that I only offer three products [all come with digital files] –  items you simply cannot purchase somewhere else.  The products I offer are:  a set of 3 custom-designed miniature albums, a custom-designed mounted storyboard collage & a custom-designed keepsake album.  [pricing shared here]
Today, I want to introduce you to the mounted storyboard collage.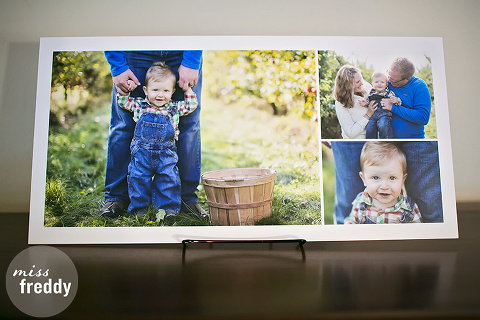 The beauty of this piece is its versatility- it can stand on a table top [using the display stand shown above], be easily framed, or you can simply adhere it directly to the wall!
The one photographed here is on display in my own home.  At 10×20 inches in size, it is the focal point of our bookshelf.  My intention is to design a new one each year and 'rotate' them on the display stand [maybe to match the seasons?]  It's such a fun item!
What do you think?  Love the look of the mounted storyboard collage too?!