Have you ever had an idea that completely & totally excited you?  But then you shelved that idea, for months & months, because you were worried that once the idea came to fruition, it might not be nearly as cool as you envisioned?
Well, this little idea sat on my to-do list for a long time.  I'd look at it, smile and think 'I love that idea', but then immediately follow with 'I'm not sure I can pull it off in a way I'd be happy with' and push it further down the list.
It began with the question 'How can I get kids excited about having their photos taken, before the session?'  Some kids jump right in, instantly comfortable with me and happy in front of the camera.  But most kids take time to warm up.  And a few take a long time to warm up.  It's totally ok… that's why kids are my favorite photo subjects.  It's not always 'easy' and that challenge makes it fun.
Then I had 'the' idea:  an activity kids could complete prior to the session that will give them a glimpse of what to expect.  Something that involves them in the planning & gets them excited.  A coloring page, depicting a photo session with me, with prompts/questions for parents to ask the kids as they color.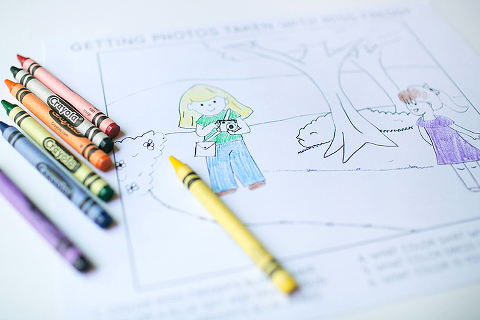 A simple idea, for sure.  But something I'd never seen done.  And even though it was simple, it was full of challenges [hand-drawn art?  I'm not an illustrator & I definitely can't draw!].
I sat down in front of a blank sheet of paper with a pencil [that had a full eraser!] and started to draw.  An hour later, I had sketches of a park, a photographer, a little boy & a little girl, but no more eraser.  I brought the sketches into Photoshop [at last! my comfort zone!] and started to pull the pieces together.
I was thrilled.  This little idea that sat on the backburner for so long was finally COMPLETE!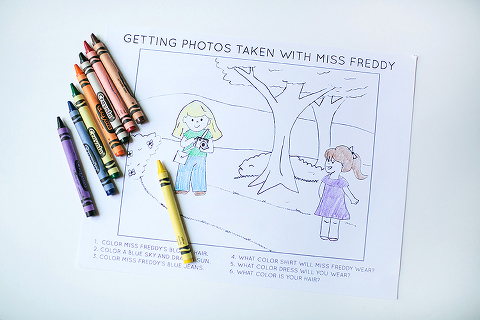 I knew this simple little worksheet was too cute to keep to myself and it could really benefit other children's photographers.  It's a tool that can set you apart, impress your clients & make your job easier.
I've setup a little online shop [which was significantly harder than making the actual drawing… go figure!] so you can have your very own personalized session prep coloring pages!
Your purchase includes two personalized pdf files (one for a boy photo subject, one for a girl photo subject) featuring YOUR name or business. These can easily be printed on regular 8.5×11 paper.  Keep it simple by emailing it to clients prior to the session.  Or make it fancy by mailing a welcome packet that includes the worksheets and a small pack of crayons!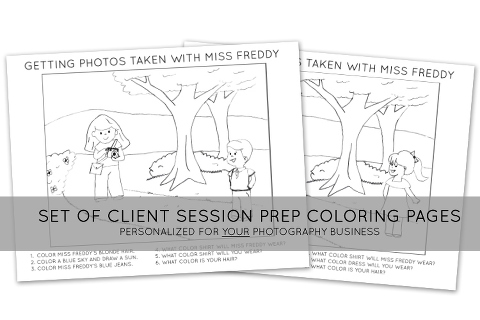 Must have it?   Head over to the shop for more details and to place your order!