It was Sunday mass and I was supposed to be paying attention to the priest, but the family in the pew next to me had a pimped out infant carseat and I couldn't help but watch their baby girl happily play with all the activities [the activity bar was hot pink so I assumed it was a baby girl].
In that moment, I had no idea that Baby Girl [her name is Isabella] had also just relocated to Seattle.  Or that she'd quickly become friends with my little Colin.  Or that her parents would ask me to take photos of their cute family.
I'm so thankful for all of those things.
Here are my favorites from my session with beautiful 5-month-old Isabella…
I met Isabella's family at Lincoln Park in West Seattle [my fave!] on a chilly November day.  I was so happy with the pops of bright red that Mom incorporated into their wardrobe.  Ideal for Christmas cards, but it also offset the overcast day perfectly.
Isabella's wardrobe rocks.  She comes to every playdate donning something adorable & perfectly accessorized.  Aren't her little red cuffs/shoes (tights)/bow just too much cute?!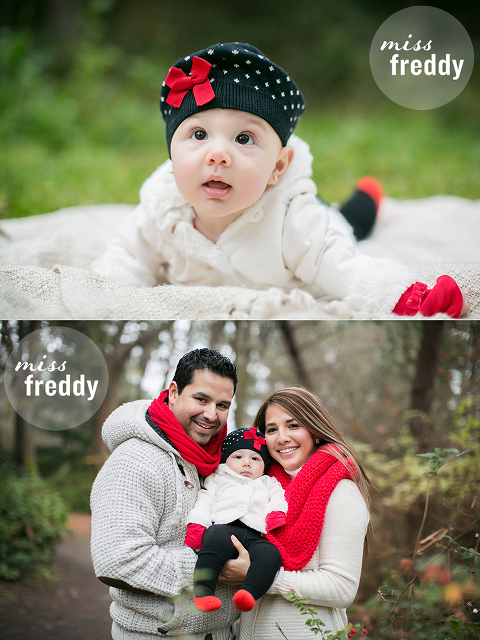 Isabella, thanks for braving the chilly temps for our photo session.  Since you were born in Florida, I know 45 degrees probably felt like a polar vortex!  You were a great sport!