I met Candice last summer.  Both of our husbands were in Notre Dame's MBA program and both of us were very much pregnant.  It was an instant comfort to find someone who could understand everything I was going through: the random leg cramps in the middle of the night…  sobriety at football tailgates… staying warm in the Indiana winter when your coat no longer buttons.
Neither one of us were finding out the gender so we also talked about the struggles of creating a neutral nursery.  On a college budget.  Living in apartments that were relatively temporary.
She told me she was keeping it simple, not spending a ton of time or money.
She totally lied to me.  About everything except the budget.
When she posted photos of her completed nursery on Facebook, I sat at my desk flipping through the album, amazed as it just got CUTER & CUTER.  She put together a stunning DIY nursery filled with personal & creative touches.  I, of course, ran over with my camera days after Baby Liam was born to take a look [don't worry… I brought dinner too.]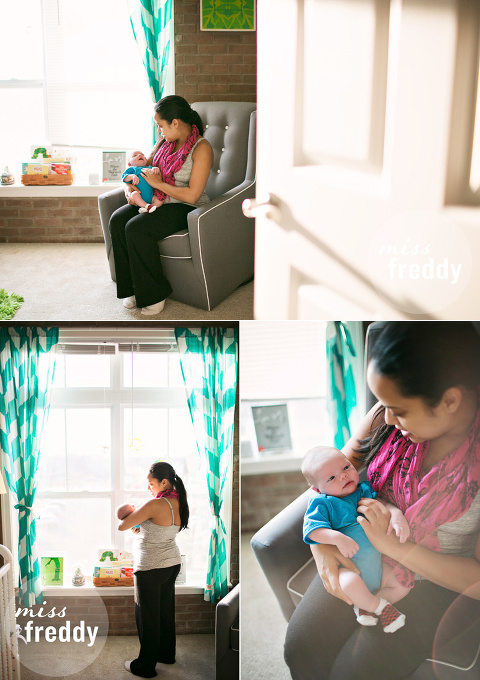 I asked Candice to share all the details:
 "With a husband working full-time on his MBA, we had 2 things working against us as we prepared for baby: small budget and little time. Per my husband's request, we decided not to find out the sex of our baby, so my plan was to go neutral but without staying within the confines of the typical yellow (although it is my favorite color).
The film reel I picked up at an estate sale in an old bank building in downtown LA – I had used it as a decor item for years, and brought it out of retirement for the baby's room, slapped some red spray paint on it – and voila (I later found out it was truly vintage and worth around $50 had I not painted it)!
The clock we already had (from Walmart $10), and the vinyl record was spray painted at the same time as the reel.
The fitted sheet is Aden and Anais (splurge!), with the crib skirt made custom by my sister's mother-in-law who got the fabric on clearance after Christmas.
The green rug was found in the clearance section of TJ Maxx for $7.99!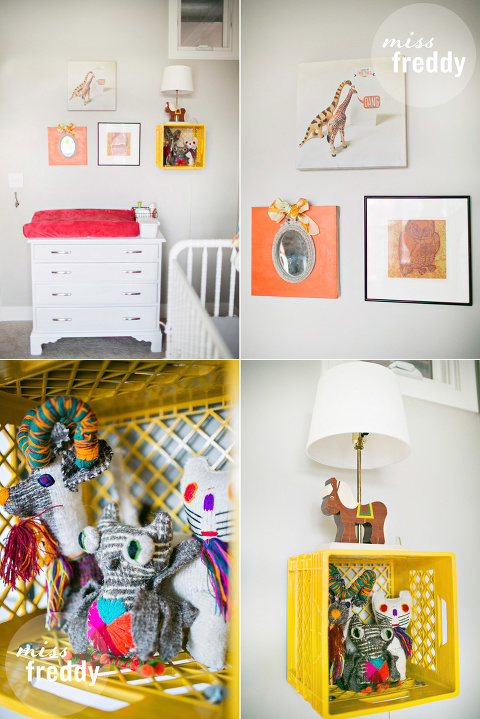 I knew I wanted to go very colorful, with lots of reds using Mexican stuffed animals we picked up on our honeymoon with the intention of giving one to each of the children we hoped to have (this was just 9 months prior to our son being born – you can do the math). To battle the small budget, I looked to up-cycle as much stuff that we had as possible starting with the dresser.
The dresser was actually made by my husband's father so we couldn't ditch it, so we slapped a coat of non-toxic paint and changed out the hardware to update it.
For artwork, I  painted a couple of canvases solid colors then placed a mirror on one (I had found the mirror years ago at a Brooklyn flea market) and attached it with a scarf I found at Goodwill.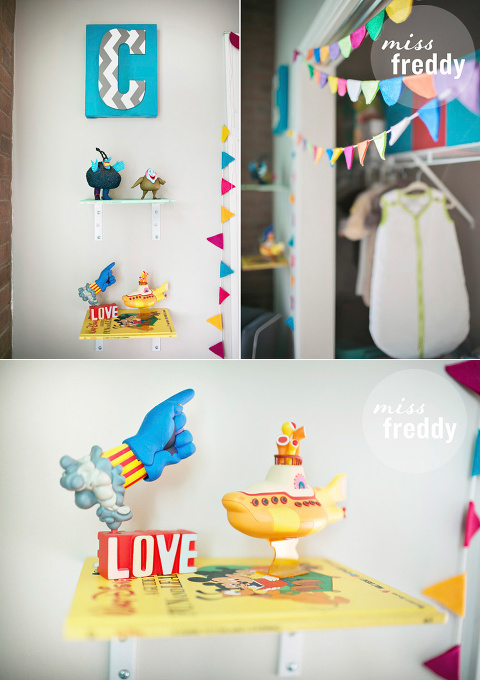 The "C" that I placed on the second canvas had been repurposed and painted 3 other times! It originated from my Bridal Shower (white), was used at our wedding (yellow), decor in our apartment (gold) and now in our baby's room. I used leftover chevron drawer liners to give it its current look.
 The pendant banners were made over a long weekend my sister-in-law came to visit just weeks before I delivered. We used leftover felt that was found in my office that they were about to get rid of. They were already cut in squares and circles and the perfect colors – I volunteered to take them home – yet another free item! We folded them over some satin rope and glued them together.
I was eager to display my husband's Beatle's Yellow Submarine figurines he had boxed up since he was a kid. We placed them on vintage Disney books (2 x $5) we picked up at an antique mall in Michigan that we made into shelves that were made simply out of the books and L brackets (about $1 for each bracket)."
I love how casually she talked about the shelves.  MADE OUT OF VINTAGE DISNEY BOOKS!  Isn't that the cutest nursery idea?
Of course, I had to snap a few photos of little Liam too!  Here he is at just a few days old.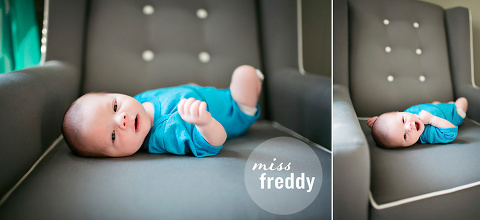 And some snuggle time with Momma…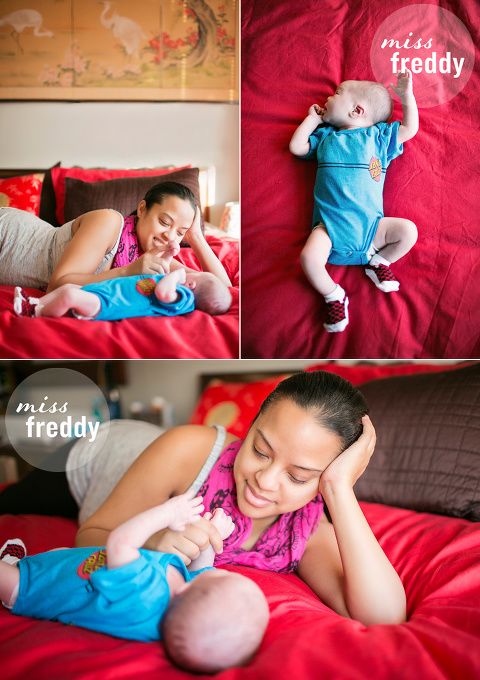 Yup, she looked amazing just days after birth & designed an adorable nursery with ease.  Jealous, much?  [guilty!]