Photographing the one year session for my First Year Package clients is always bittersweet.  I get so spoiled seeing them 3-4 times in a year and I'm sad that frequency most likely will not continue, but I'm also SO EXCITED to see how much they've changed since their six month session.  The change in that span of time, specifically, always seems so dramatic.  The baby who sat, smiled and didn't move, is suddenly standing, potentially walking, babbling and giving me/my camera lots of attitude!
For Marcus's one year session, we met at the University of Washington campus.  I'd actually only been there once before (for fun, not for work) and it was during the madness of the cherry blossoms.  Visiting on a weekend, with school out for summer, was tranquil and beautiful and a perfect spot for some family photos!  Here are a couple of my favorites from the session: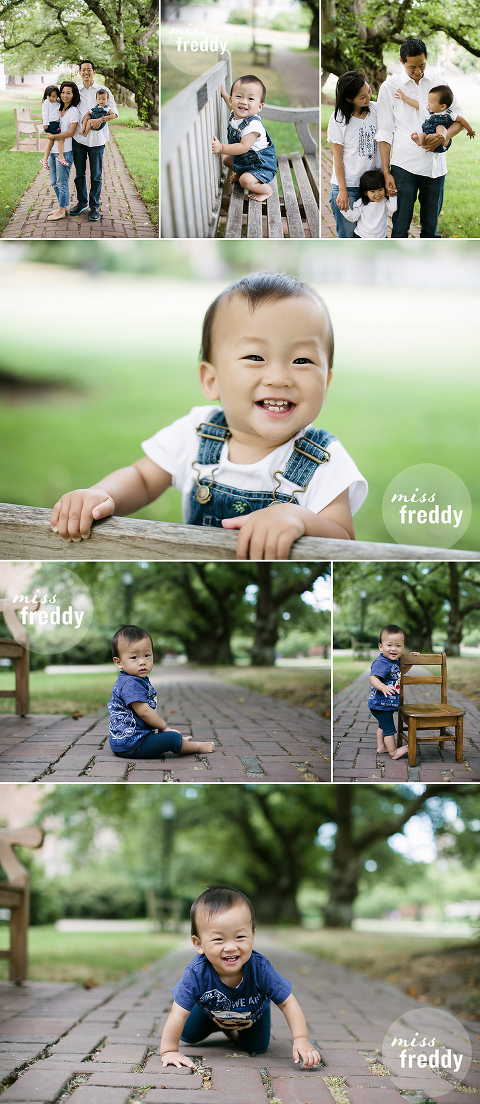 Seriously, Marcus.  You're so stinking cute!!  And things only got CUTER when big sister Chloe jumped in for some sibling photos…
Marcus (and Chloe), I have SO enjoyed watching you grow this year.  I hope to see you again soon!!
want to work with miss freddy?
Great!  I can't wait to capture beautiful & timeless images of your fun-loving family!  You can learn more about me, my style & my pricing HERE or see what others are saying about working with Miss Freddy!
A first year package is the perfect way to document your child's first year!  In addition to newborn, six month & one year photos, you will receive a FREE maternity session & FREE set of birth announcements!  An amazing deal!