When Henley's Mama reached out to me to schedule newborn photos, I described my typical newborn session:  a mix of sleepy poses on a beanbag & lifestyle family photos… usually taking 2-3 hours.  She asked if we could just turn it into a lifestyle session instead and skip the sleepy baby poses part.  So, we did a simple session (one hour) and I love the way it turned out!
A little different than my typical newborn session (I don't think he actually slept at all), but he is a wide eyed BEAUTY.  Here are my favorites from their lifestyle newborn session!
And, even with a shortened session, there's ALWAYS time for snuggles with a FABULOUS big brother…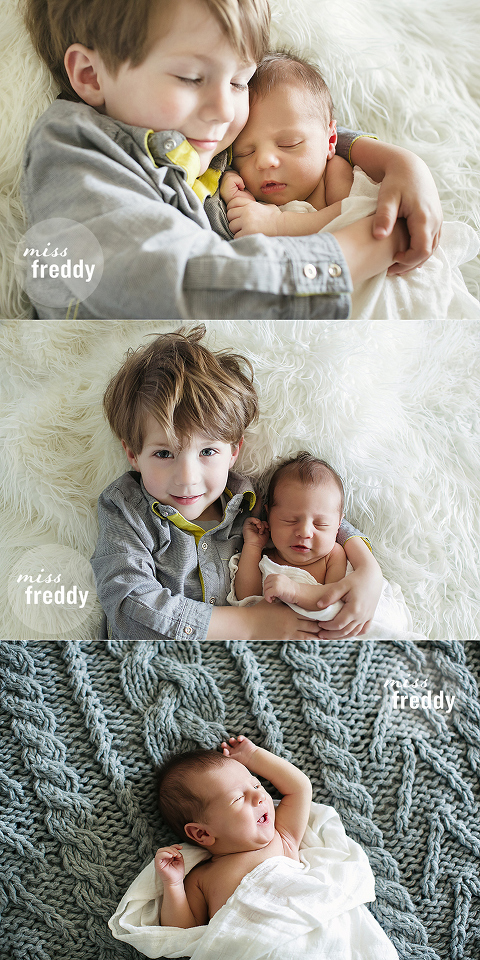 I can't end this post without a quick round of applause for the rockin' hairstyles both boys are sporting.  Blessed with gorgeous color, texture & style.  Am I right?
expecting a baby?
Congratulations!  Lifestyle newborn photos with Miss Freddy are the perfect way to document the fleeting early days [which is important because it's quite possible you may not remember them due to sleep deprivation!] in the comfort of your own home.  Plus, get a discounted maternity session when you book a Newborn Special.  Maternity photos are best at the beginning of the third trimester & newborn photos within the first two weeks, so contact me during your second trimester!  I can't wait to meet your (growing) family & capture some beautiful, timeless images!