HOORAY!  It's time!  My 2019 Colorado Fall Mini Sessions are NOW ON SALE! This year I will be offering two of my favorite locations: Morrison and Boulder.
Morrison: September 13-14 (SOLD OUT). I love the view of Red Rocks in the evening.
Boulder: September 20-22. (SOLD OUT) My favorite mountain backdrop with an incredible view of the Flatirons.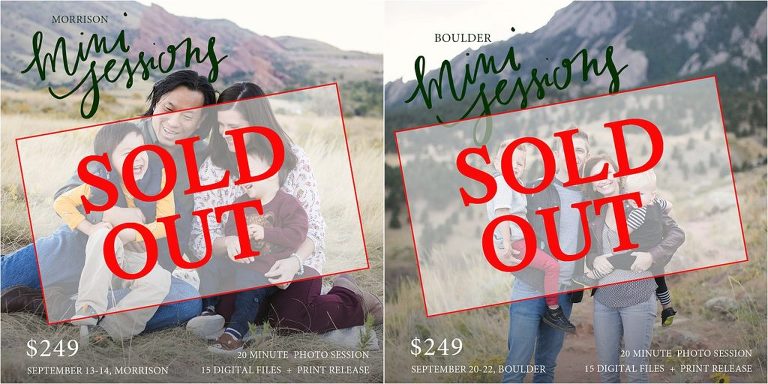 All mini sessions are $249 for 20 minutes and include the digital files + a print release.  During a mini session we take family photos, sibling photos, and individual photos of the kids.  They're the perfect way to get discounted family photos when you're dealing with toddler attention spans (or who are we kidding… husband attention spans too).

Note:  Full payment is due at the time of booking.  In the event that you need to cancel, you will receive a full refund provided the session is re-booked.
BOOK NOW
****The 2019 Mini Sessions are sold out. ****
Missed out? I will be offering one more round of mini sessions in November that will be inside a studio space in downtown Denver (it'll be a holiday styled set). They'll go on sale in late September. Make sure you're signed up for my newsletter so you're the first to know when they go on sale!