This adorable family invited me to be a part of Baby Paul's baptism earlier this summer.  Baptisms are so full of excitement & celebration.  I couldn't wait to photograph the event!
Extended family traveled from long distances (various cities in the US & Canada) so we put together a special plan for the day.  We started at the church, taking candid photos of the actual baptism, followed by formal portraits with the priest & extended family (sort of like a wedding!) and finished the day with more casual family photos.
Per the wishes of the family, I am not sharing photos of the baptism on my blog, but I am excited to share a few of my favorites from our brief family session.  These were fun because everyone was still dressed up in their baptism-best, but we took the photos outside of their home for a more casual look [can't exactly get these same giggles while standing on the altar of a church].
A really neat way to preserve memories from the day, right?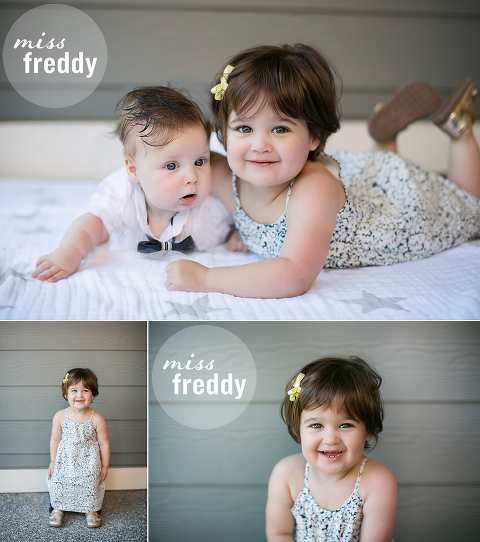 I love Paul's teeny bow tie and chrism-slicked locks in these photos.  He has a wonderfully soft head of baby hair that loves to stick straight up in the air so during his baptism, the priest slathered the chrism all over his head.  It elicited a few chuckles in the moment, but ended up creating a look that 'stuck' with him for the rest of the day!
Why hire a professional photographer for your baptism?
1)  So you can relax & truly be present at the event.  
I know what you're thinking… "we have friends & family who have cameras and will photograph the event for us… for free."  It's true.  But you & I both know that the experience you have while looking through a lens/viewfinder, is entirely different than actually being present in the event.  The peace of mind that comes with hiring a professional to document the day allows you & all of your guests to truly relax and enjoy the event.  It will change the energy of the day in such a good way.
2)  So everyone can be in the photos.
Perhaps your family traveled from all over the country for this event [how cool!]  Of course you'll want ALL of them in an extended family photo!  When was the last time you had one?  Your wedding?  Time for an update!
3) So you can get some high quality images from the event.
We already established that friends & family will be happy to photograph the event for free.  And most of them will likely use their iPhones.  I seriously love my iPhone- I use it to document so many of life's little events.  But for something special like a baptism, you're going to want high quality images.  iPhones can be unpredictable, especially inside a church [why is the lighting always so sketchy?!] and it would be a shame if all your family & friend's images came back blurry or horribly exposed.  Plus, the iPhone camera's zoom stinks and unless you want someone hovering over your shoulder as the priest is pouring the water, trust a professional with a really expensive zoom lens!

And why should I hire Miss Freddy, specifically, to photograph my child's baptism?
I spent four years as a wedding photographer before specializing in kids portrait work.  I have photographed events in a LOT of varying churches, all with completely different lighting challenges & photographer regulations (ie: no flash, must be X feet away from the altar, etc).  Let me use all of my prior experience from wedding photography (not to mention really expensive equipment) to bless you with great images of your baptism!
Want more information?  Here are my rates & coverage options!