I figured since the weather here in Seattle has been like summer (seriously, how amazing is all this sunshine?!?!), I should balance it out with a little throwback to a session from this winter that was right in the THICK of an intense rainy season.
This awesome family has been in front of my camera before and invited me to join them during their annual trip to Trinity Tree Farm to pick the perfect Christmas tree.  It sounded like the ideal setup for holiday card photos until I saw the forecast was for a serious downpour.  I offered to reschedule but this adventurous family wanted to stick with it (eager to start decorating their tree!) and I joined them for some really really wet & muddy fun.  Here are some of the highlights:
a photo session at trinity tree farm
The kids spotted the perfect tree…
And then things got REALLY fun.  Karma & Quinn discovered an enormous mud puddle on the way back to the lodge.  Mom gave them the go ahead (we already got the Christmas card photo, right?) and they literally jumped right in.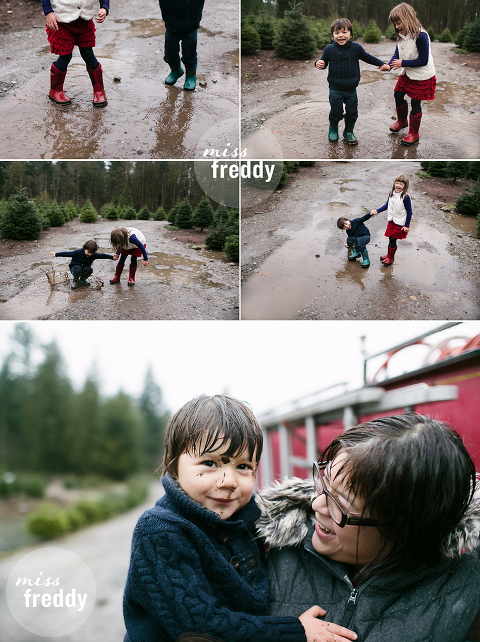 A true Seattle family photo session!  I had a BLAST taking these photos in the rain… perhaps it's something I should encourage more families to do.  Anyone up for some rainy day fun with Miss Freddy?!
want to work with miss freddy?
Great!  I can't wait to capture beautiful & timeless images of your family (even in the rain!).  You can learn more about me, my style & my pricing HERE.  And sign up for my newsletter to be notified about new local photo events, specials & special pre-sale opportunities!