I took two months off from photo sessions after welcoming our little Jillian.  Those two months [October & November] happen to be the very busiest months of the year for photographers so I especially noticed the difference.  As I savored the [mostly] quiet time at home with my baby girl, the seasons were changing in Seattle, and I started getting a serious itch to go out and shoot.  At the very end of my two months, I decided to do a session just for me… just for fun.
I knew exactly where I wanted to do the shoot: a Christmas tree farm!  I've heard of tree farms in every place I've lived, but in Washington they're a pretty big deal.  It is the Evergreen state.  So many families cut their trees fresh from the farm and I think it's such a fun holiday tradition!
Visiting a tree farm with my own family wasn't in the cards this year.  Primarily because our church does a tree lot fundraiser and we wanted to support them, but also because our kids are still too little to understand.  So I put out a plea on my facebook page, asking for a family willing to let me tag along during their tree farm fun.
I got lots of responses [like I said… tree farms are a big thing here] so I just picked based on farm proximity.  It so happened to be this sweet family who visits Coates Christmas Tree Farm every year.
And I'm sorry but I totally hit the jackpot.  I mean, how ridiculously cute are they?!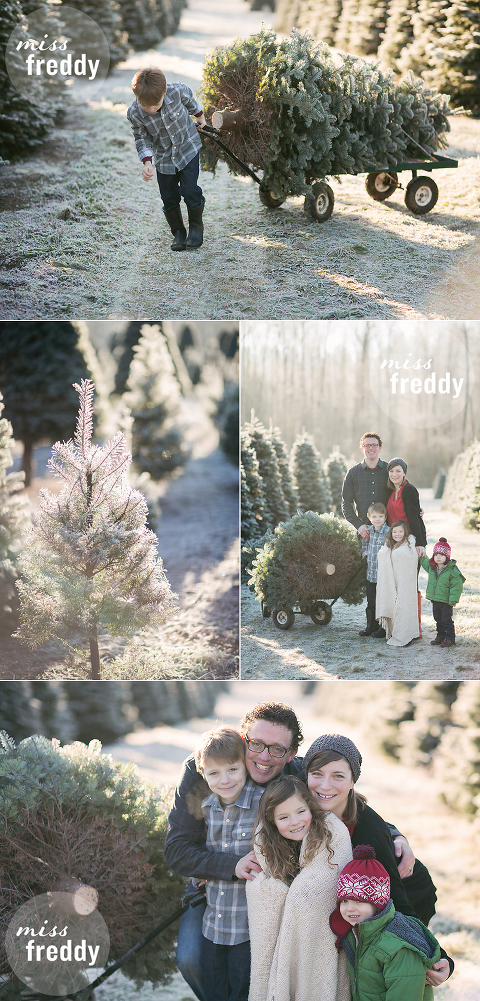 I love that you can see Finn's breath in that last shot.  Don't let the sunshine in these photos fool you… it was a really chilly morning complete with a dusting of SNOW!  No, really, I had to dig out my Minnesota winter gear [and I haven't done that since moving here].  But these guys laughed and told me it was WAY better than the year they picked out their tree in the rain.
Thanks for letting me crash your annual tradition, guys!
P.S.  This family was lucky to receive this photo session for FREE because Mom is a fan of Miss Freddy on Facebook [and she answered my plea].  Maybe you should consider becoming a fan too!