"Smile at Mommy, kids!!!"  [[click]]    … another adorable moment documented from behind the camera.
I get it.  That's where I'm most comfortable too.  And getting in FRONT of the camera can be scary: What if my kids won't behave?  What will we wear?  What if I'm still carrying ten pounds [ok, fifteen] from my last pregnancy?  What if I look frazzled after getting everyone dressed & out the door?  What if I buy a photo session, my kids don't cooperate… and it's an enormous 'waste of money'?
There will never be an end to the excuses you can create.
Instead–  let's think again about those adorable kiddos.  The ones who wake up bright & early every morning because they're SO EXCITED to see YOU.  The ones who crave YOUR snuggles when they're sick.  The ones who rush in the door from school to show YOU their artwork.  You're their one & only Mommy.
And guess who they want to see in the photo?
So, let's make memories for Mother's Day this year.  Let's document how much your children LOVE YOU!  And, really, you'll just have to TRUST ME to make it all work.  I have a teeeeeny bit of experience with making young, rambunctious kiddos smile & interact with the camera.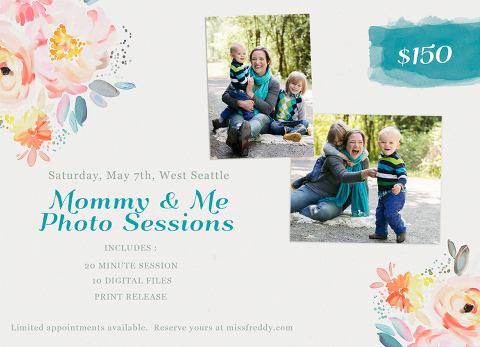 book your seattle mommy and me photo session!
[bookly-form category_id="1″ service_id="8″ staff_member_id="4″ hide="categories,staff_members,date,week_days,time_range"]
Want to see more of what you can expect?  Check out the highlights from previous mommy & me sessions.