———————– THIS DEAL HAS EXPIRED, VIEW NEW SPECIAL HERE —————————-
In May, I attended a newborn posing workshop.  I photographed many newborns when we lived in Minneapolis, but this portion of my business had been quiet for the last two years [as we moved twice & welcomed a baby of our own].  The workshop was the perfect opportunity to dust off my skills, while learning new posing techniques & tips for newborn safety.
Selfishly, I wanted to prepare for the birth of my own newborn, but I also wanted to jumpstart this area of my business with a fresh portfolio.  So, to celebrate, I am offering a ridiculously amazing Summer Newborn Special.  [And when I say "ridiculously amazing", I mean $250 in savings. Hot damn!]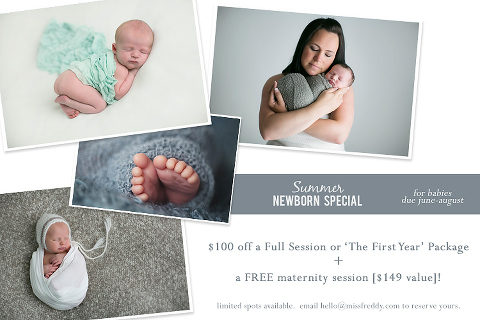 My summer schedule is filling fast so contact me to reserve yours right away!  Please share this with your friends that are expecting babies this summer [and if they're due in June, HURRY so we can squeeze in their free maternity session before baby arrives]!
FAQs
When should I schedule my newborn session?  Right away!  We can schedule a tentative time based on your due date and finalize the details after baby arrives.  Newborns are best photographed between 4 – 10 days old.
Where is the newborn session held?  In the comfort of your own home.  This way you do not need to hassle with moving your brand new little one and can relax [even take a nap!] while I'm photographing baby.
How long is the newborn session?  Typically two hours, but I reserve up to three so we can be flexible for baby's needs.
What should baby wear?  For the majority of the session, baby will be nude or in a diaper, as this is the most natural way to capture all their tiny little details like eyelashes, belly rolls, fingers & toes.  I will also bring blankets, wraps & a few hats/headbands to incorporate into the session.
Do I get digital files of the final images?  Digital files are not provided in the session fee, but are available for purchase after you view the final, edited proofs [full pricing details are shared here].