There's a lot of STUFF that comes along with your child's school years. I'm a minimalist in nature so I believe there's no need to keep it ALL (less is more!). It would overwhelm your child in the future when they're trying to page through their memories- the goal is to give them something meaningful, but manageable so that they actually WILL take the time to look at it. It's helpful to designate a single space where the most important memorabilia can be housed. Here are two ideas:
a keepsake album
One method is to use an album or binder. Earlier this year, I worked on a photo organizing project for a client where I created a simple album for each of her children. Each album has dividers by year, page protectors to hold school photos and important documents, and large envelope pages to contain smaller memorabilia.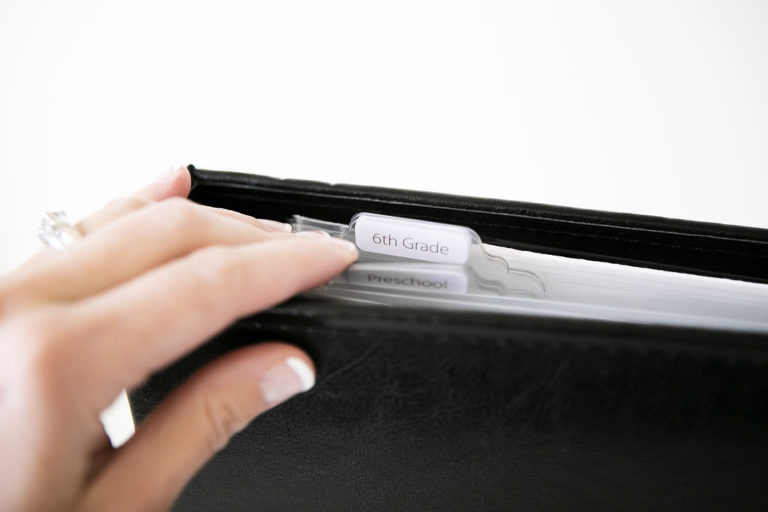 There's no need to complicate this- a SIMPLE system and layout will make it easier to maintain. Something that feels complicated or overwhelming will ultimately be something you put off… and put off… and never complete.
It took me just a few minutes to setup the whole album. I used a 12×12 black leather album, inserted a bunch of 12×12 page protectors, interspersed a handful of envelope pages (there are smaller ones available too), and then I popped in these dividers– they're awesome because they come with pre-made labels for school years! Simple + easy!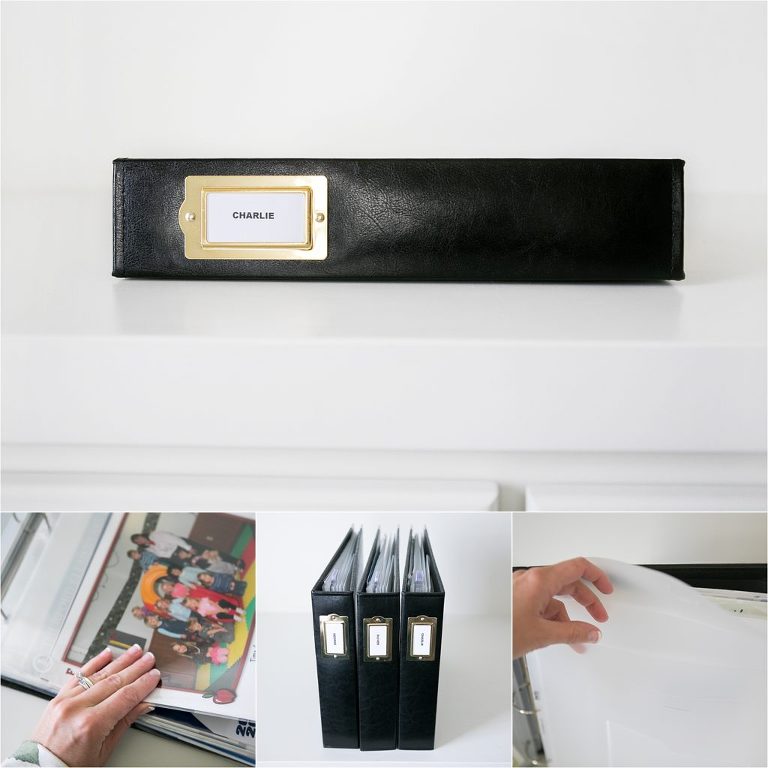 With the basic binder structure already setup, each year you can slip the school photo, class photo, and any other documents/special artwork you wish to keep right into the page protectors and envelopes. Done and done!
[Bonus: to see a live look at the album, make sure you're following Miss Freddy on Instagram!]
a keepsake box
Another method is to use a keepsake box. This is what I've been doing for both of my kiddos so far… though admittedly we are pretty new to the school years (I have a 1st grader and preschooler).
I purchased two boxes for each child where I store keepsake items (the ones I bought have been discontinued, but this one or this one is similar). Since they're fairly small in size, it forces me to be selective about what I keep. So far they include things like their hospital bracelets, baptismal candles, sports team photos, school photos, and some very special artwork pieces.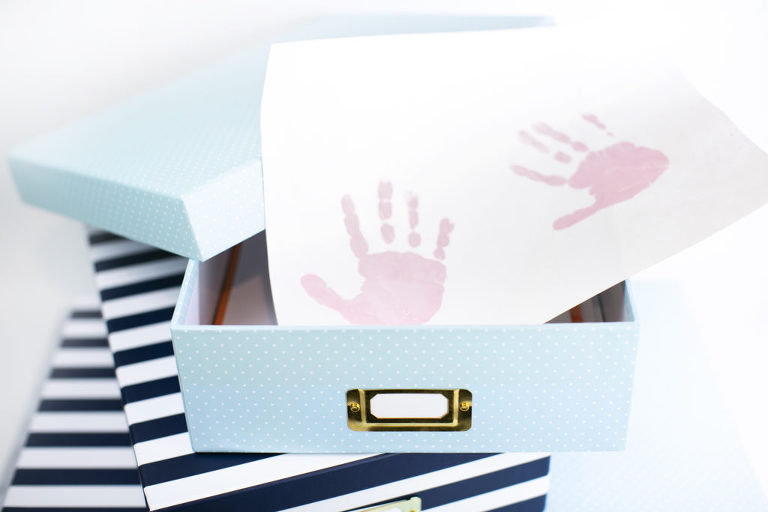 I keep these boxes displayed near their baby books and our family yearbooks, right in our living room, and my children actually do open them on occasion and look through the contents. That's the whole point, right?