The overwhelming response to the Valentines Photo Booth has made me so-so-so-happy.  And since I couldn't accommodate everyone that day, I will be doing a second photo booth event on Saturday, February 1st!
Many of you said the afternoon sessions were conflicting with naptime [totally get it… never mess with nap time!] so these will be in the morning.  To schedule yours, email me your preferred appointment time.
9:30: BOOKED
10:00 BOOKED
10:15: AVAILABLE
10:45: BOOKED
11:00: BOOKED
11:15: BOOKED
11:30: AVAILABLE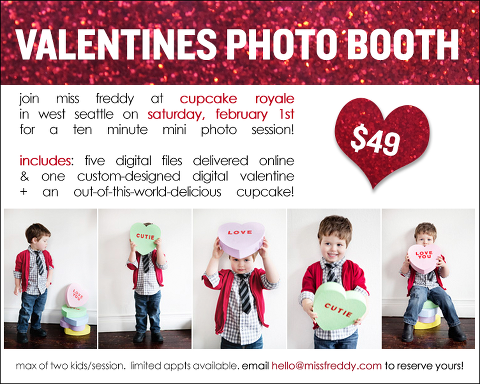 P.S. If you haven't tried Cupcake Royale before, you are in for a SERIOUS TREAT [no, literally… I'm including a free cupcake with your session].