Nicole was the organizer of the very first Meetup event I attended, just days after moving to Seattle.  She hosted a little playgroup in the park and we sipped on some bubbly beverages while the less-than-one-year-olds played on the blankets around us [still one of my very favorite Meetup memories].
Almost exactly one year later, we met in another park under very different circumstances… for a maternity session!  Her now-a-toddler was very much mobile.  There were no bubbly beverages as we were both very much pregnant [both expecting girls with due dates just one week apart!]  And even though so much had changed, it was just as nice to get together.
Here are some of my favorite photos from the session!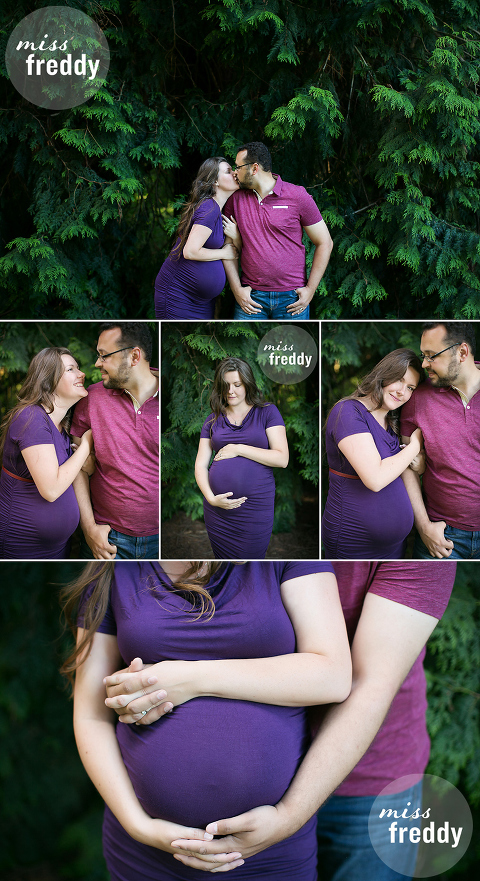 They are too adorable, right?  And how YUMMY is that evergreen backdrop?!
The week of our session, Robert had just gotten a new baby doll and was sweetly taking care of it… preparing for his role as big brother.  Hopefully he's still a very 'helpful' big brother now that baby sister has arrived!  Congrats on your new addition, guys!
[P.S.  If you're totally in love with Nicole's maternity dress, like I was… I asked her where she got it!]
Expecting a baby?
A photo session with Seattle maternity photographer, Miss Freddy, is the perfect way to document your pregnancy.  Get a discounted [or FREE!] maternity photo session when you book a Newborn Special or First Year package.  Maternity photos are best at the beginning of the third trimester so contact me during your second trimester to schedule your session!