Usually my blog series include daily posts Monday-Friday, but for this one I'm including a special BONUS post!  West Seattle is home to SO MANY great things that I couldn't fit it into five articles.  Here are some *bonus* spots for you to check out this weekend!  These are the top spots I recommend to see the best views from West Seattle.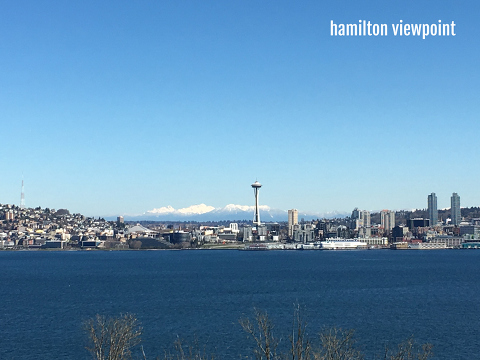 best views from west seattle (according to miss freddy)
Charles Richey Sr Viewpoint.  I'll let you in on a secret… this is my favorite place in ALL of Seattle.  If I ever have a couple extra minutes in the car (sleeping baby), I drive here.  It's just around the corner from the very popular Alki Beach, but for some reason this spot doesn't see the same crowds.  If there aren't any clouds in the sky, the views of the Olympic Mountains on one side & Mount Rainier peaking up over the other will take your breath away.
Hamilton Park.  This one is a little better known (it is called 'Hamilton viewpoint park' after all) but for good reason.  Great view of the Seattle skyline and on a clear day you can see the mountains behind the space needle (shown above).  This is also a gorgeous view at night… I love watching the ferrys sail across the bay with the city illuminated behind them.
Lincoln Park.  Another place for a stunning view of the Olympics.  Especially at sunset (see below).  In the middle of the day you may even spot a seal pop up in distance!
Belvedere Viewpoint.  The import transportation geek in me (from my days at Target HQ) really enjoys seeing the port in action.  This is a great spot to get a view of the Cascade Mountains, the city, and also watch boat traffic + port operations.
Me Kwa Mooks Park.  Ok, so Me Kwa Mooks park is nice, but immediately across the street (on Beach Drive) is a quiet outlook with a great view of Puget Sound.  During low tide you can even walk down and stand on the rocks!  Similar to Charles Richey but even less crowded.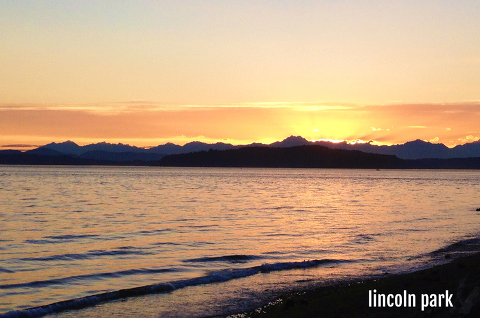 Which view is YOUR favorite?  Any additional spots you recommend I visit for a great view?
---
Well, that wraps up the 'best of West Seattle' blog series!  But don't worry, there will be more fun coming later this year… I have a 'themed' blog series planned for every month.  Make sure you're on the list so that you receive all the fun in your inbox!