If you've visited my blog just one time in the past 3 years, you've probably seen one of my children in a numbered onesie.  My cousin, Bridget, made these monthly onesies when I was expecting Colin and I've had so much fun putting them to use.
Starting when Colin was brand new (see below), I laid him down on a neutral quilt and snapped a quick milestone photo once a month.  I did the same with Jill.  Many months I'd finish the shoot (can we really call a 3 minute affair a 'shoot'?) feeling super frustrated that they wouldn't lay still and smile.  But when I see the series all put together, I really love how well it documents developmental changes, in addition to the obvious physical changes.  Like when they started chewing on fingers, sticking out a tongue, or grabbing toes.  They aren't all perfect smiles, but it turns out that's the best part.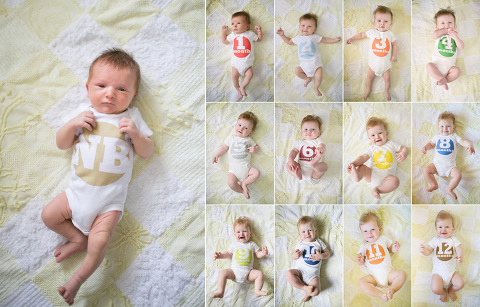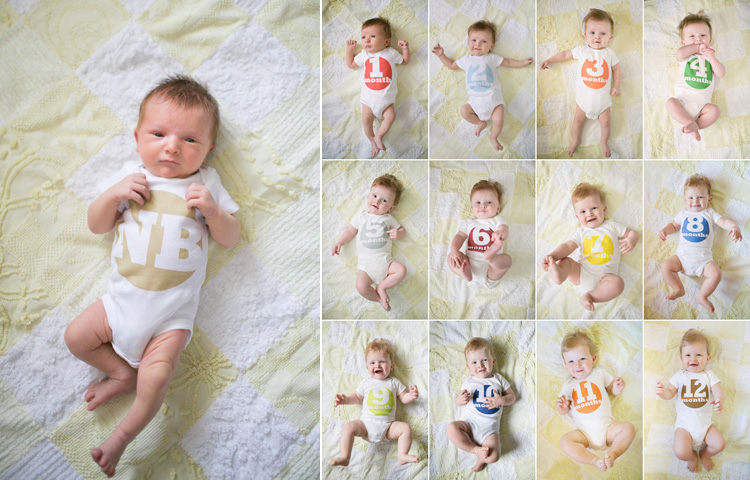 download a set of monthly baby photo signs
My cousin used to sell these onesie sets on Etsy, but has since closed her shop.  Lucky for you, she was generous enough to create a FREE DOWNLOAD of these designs so that you can use them too!  She's included newborn through 12 months in a pdf file- you can print, cut out & simply use the paper circle to document each month (tape it on a white onesie, place it on the blanket next to the baby, etc) OR if you're more talented than me, you could even press your own onesies to keep forever.
Click here to download  —–> FREE MONTHLY BABY PHOTO SIGNS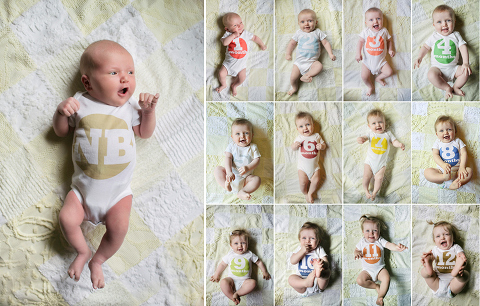 tips for taking monthly photos of your baby
Now that I've done 24 months of these milestone photos, I have a few tips to share:
Shoot in the same room at the same time of day.  It'll help with consistency in lighting so when the full year of photos is combined, everything blends well together.
Open all the blinds in the room to get as much natural light as possible.
Place baby on the floor so that the window is on their left or right side.  This will be the most flattering light on their face and help you get catch lights in their eyes.
Take the photo after naptime while baby has a full stomach.  (Aren't we

all

more cooperative when we're fed & rested?)
Before baby is mobile, play peekaboo behind the camera or blow raspberries on their tummy to get smiles.  After baby is mobile, try holding up a toy they have never seen before to get their attention.  Then snap quickly!
Looking for a fun way to display the photos?  Some sweet friends gave us this gorgeous frame and I LOVE IT!
Thanks again to my cousin for the perfect, timeless designs that are so fun to use!  Now, let's not talk about the fact that BOTH of my babies have already outgrown these onesies….