I am so excited for my Spooky Mini Sessions tomorrow!  I'm anxious to see what costumes the kids selected this year.
Speaking of costumes, I'll go ahead and admit that I am SO NOT the Mom that can DIY a costume.  I don't sew.  I'm not crafty.  [major props to those Moms!]  Thus, Colin's first Halloween costume is store bought… and I had so much fun searching for the perfect one.
No, really, I probably had way too much fun.  "OHHHH Colin needs to be THIS one!"  I screamed and passed the laptop to John.  "Wait, no, THIS ONE!"  John rolled his eyes.  "OK, THIS ONE for SURE!"
Here were my favorite baby costumes from our search.  I hope these costumes make you smile too!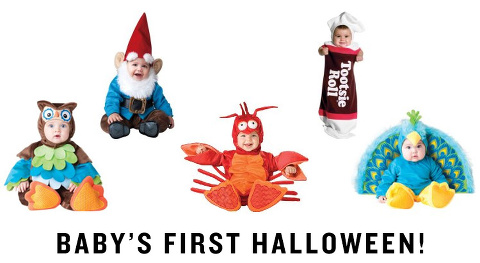 1)  Baby Tootsie Roll  Wow.  SO CUTE!  And dressing the dog up to match the baby?  Well, that's right up my alley.
2)  Baby Owl  I love that this works for both girls & boys.  Since this is our first Halloween, I was looking for something that would be more of an 'investment' and could be used for future babies.  And the ruffly feathers on the chest?  Please.
3)  Baby Garden Gnome  OH MY GOODNESS!  Such an adorable idea.  I think we may need to do this next year, once Colin is walking.  Because a tiny, walking person dressed as a garden gnome with a little beard?  Yup.
4)  Baby Peacock  At this point, I am out of adjectives to describe these costumes.  This one was a bit too feminine for Colin, but the colorful cuteness caught my eye.  Love it!
5)  Baby Lobster  Spoiler alert:  this was the winner.  My little red-headed baby is going to be a lobster!  John & I are going to join him in costume by wearing chef hats & aprons.  [photos to come…]
Did you enjoy my list of favorites?  What is YOUR baby going to be this year?
Disclaimer:  This post contains affiliate links. If you purchase a product through an affiliate link, I receive a small commission.