I squished into the window seat of the plane, infant in my arms, as strangers filled the remaining seats in my row.  I was uneasy.  It was my first time flying with an infant and thanks to a stubborn Delta ticketing agent, my husband was sitting five rows behind me.
But, it would be ok because the ticketing agent had switched me from the middle seat to a window seat, right?
Sort of.  Until I was trapped by sleeping strangers and the baby needed a diaper change.  As I changed his diaper, on my own tray table [cringe], I couldn't help but think…
I was so not prepared for this.  [and will I ever look at a tray table the same way again?]
By the time Colin was 6 months old, we'd taken 12 flights.  I won't pretend I know what I'm doing, but through it all, I've learned a few things that helped make traveling a bit easier.
So, just in time for your holiday travel, here are my tips for traveling with an infant!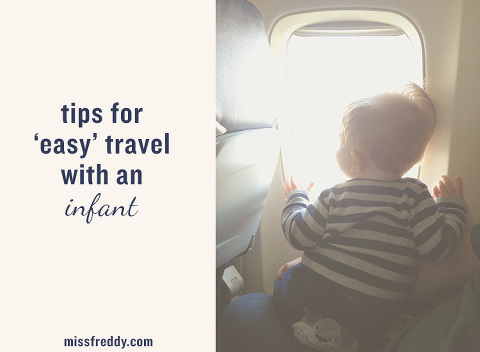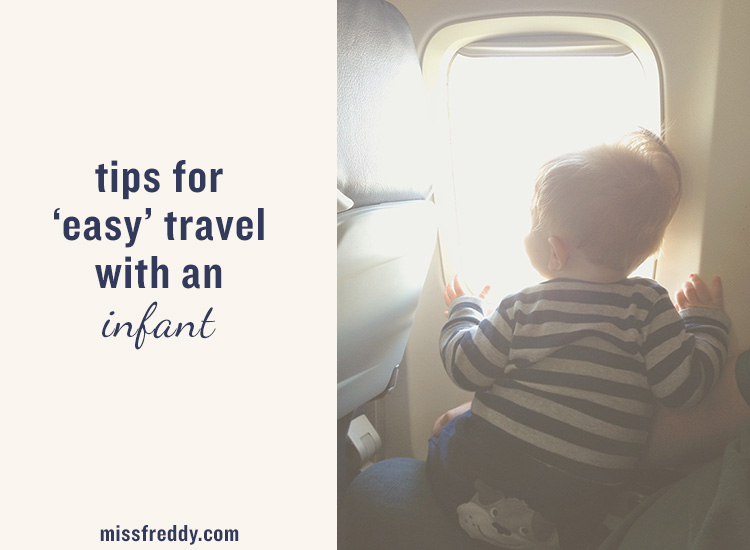 Tips for the Flight
checking bags.  Take advantage of the ability to check a car seat for FREE!  We bought this backpack to carry our travel car seat.  It looks ridiculous while wearing it, but is surprisingly light weight.  And after seeing multiple suitcases ruined by baggage handling, we thought it was worth it to spend a few bucks to protect the car seat.  [bonus:  throw clothes/diapers into that backpack to save room in your suitcase!]
maneuvering through the airport.  With a really little one, I found it easier to skip the stroller entirely and just wear the baby.  You can walk right through security with the baby attached and have both hands free to handle your luggage.  Once Colin was about 4 months old, I started using an inexpensive umbrella stroller [we like this one] since he was getting a bit heavy to shoulder in the carrier all day.
carry on/diaper bag- pack light!  It's tempting to bring every.possible.thing.for.any.emergency.situation.  I get it.  I love being a prepared parent too.  But, when you need to quickly reach something, with a baby on your lap, and you're blindly reaching into your carry on, beneath the seat in front of you… you'll be thankful it's not overstuffed.
my carry-on/diaper bag essentials:
an Aden & Anais muslin wrap [for nursing, covering dirty surfaces, keeping baby warm… love it!]
diaper changing pad/clutch [holds diapers/wipes and easier to carry into an airplane bathroom than a big diaper bag]
change of clothes for baby [there has been an explosive incident]
small toy [our fave]
small book [our fave]
bib & snack [our fave]
pacifier, pacifier clip & pacifier wipes [because things happen]
ipad  [loaded with fun baby apps… for 'emergency' use]
takeoff/landing.   The best advice that was given to me [by multiple experienced mamas] is to nurse/feed your baby during takeoff and landing so their ears adjust to the pressure change.  Don't worry about feeding schedules just this time.  For our first few flights I took this very seriously, even waking a sleeping baby to feed him.  But as we traveled more, I experimented with letting him stay asleep.  All was well.  I've also learned that a pacifier does the trick.
Tips for the Hotel
Fortunately, most of our travel plans have included visiting friends & family in their home.  But, we have had a few nights in hotels and here's what we've learned.
sleeping arrangements.  We purchased this travel bassinet for our first trip & hotel stay.  It was nice that it fit in our suitcase, but he quickly outgrew it.  Thankfully, now that he's a little older, we just use the hotel 'cribs' [a pack n play]- they've been free at the hotels we've visited.  [tip:  bring your sheet from home to make baby comfortable.]
bath time.  Why are hotel sinks itsy-bitsy?  The best solution I've found for bathing an infant in a hotel [after quite a few failed attempts] is to place a bath towel on the bottom of the bathtub.  Fill the water a couple inches and lay the baby onto the soaked bath towel.  It provides the necessary friction to bathe a very slippery baby.
My final tip:  DO travel while baby is young.  What 'they' say is true– the younger babies are, the easier they fly.  It'll get more complicated & expensive as they age, so take advantage of their sleepy, immobile (and free!) state while you can.
What are YOUR tricks for easy travel with an infant?
Disclaimer:  This post contains affiliate links. If you purchase a product through an affiliate link, I receive a small commission.  I only share products I know & love!