My son was born with a lot of hair. A LOT of hair. See this photo from the hospital for proof.
At just 10 weeks old his hair was in his eyes, over his ears & ran down his entire neck, over his shirt collars. We decided it was time for his first haircut. We propped him in the Bumbo… and…. it. was. a. disaster. We tried the clippers. His hair was too fine so it slipped right through. We tried scissors, but I was too scared to use ones that were sharp enough. The outcome? Not great. The neckline was uneven & way too high. [to be expected when you cut the hair of a newborn with no head control.]
We waited for it to grow back in. And it did everywhere… except the neckline. We waited & waited for new hair to sprout.
No luck.
At 6 months we took him to a professional. Surely they would be able to fix it. [As if a professional can make hair grow where none exists, but we certainly weren't going to do it ourselves again]. The appointment went ok. He sat on my lap and was fascinated by the stylist. She was quick & did her best to give him a style that didn't accentuate the bald spot.
Now, Colin is almost 10 months old. The hair on his neck is finally starting to grow back. We decided it was time for another haircut. From a professional. [won't make that mistake again!]
Lucky for us, there's a place that specializes in kids haircuts right down the street! The West Seattle Kids Salon! We knew Colin would be in good hands.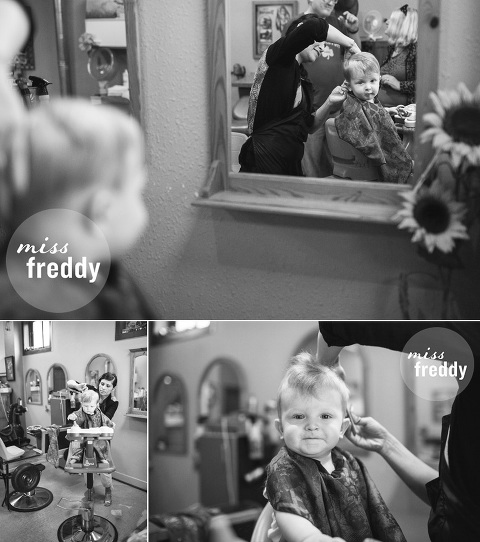 It went PERFECTLY. The chair was so full of things to look at that Colin didn't even notice she was cutting his hair!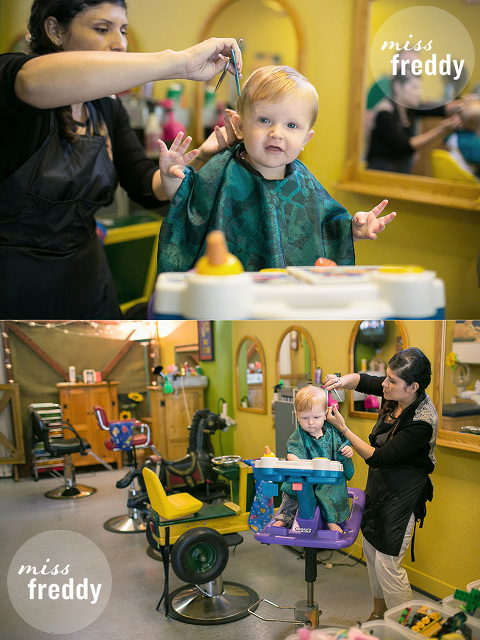 I couldn't have hoped for a better outcome. She was able to blend his hair so that his bald spot isn't noticeable! He looks like such a big boy now.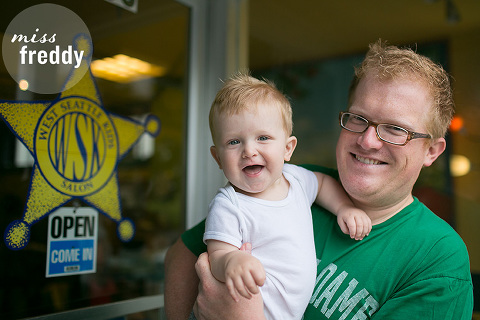 And even more like Daddy!