The photos I've taken as part of my 'day in the life' series are some of my favorites from the past few years (a 'day in the life' is when I bust out my professional camera at home and lug it with me for a full day to document our current routine and everyday details).
For 2017, I'm going to continue this personal project, but do it more frequently.  Historically I've done them quarterly, but this year I'm going to do them monthly.  I may not share a blog post recap every single month (overkill, right?) but I'll be sharing on Instagram and using the photos in our family yearbook.
Wednesday, January 25, 2017 [Colin is 4, Jillian is 2]
Today wasn't necessarily an 'ordinary' day in the life because both kids caught a cold and Colin was too sick to go to preschool.  But, it began like any other day… with the kids jumping into our bed at 7:01am (they both have the alarm clocks that turn green at 7 when they're 'allowed' to leave their room).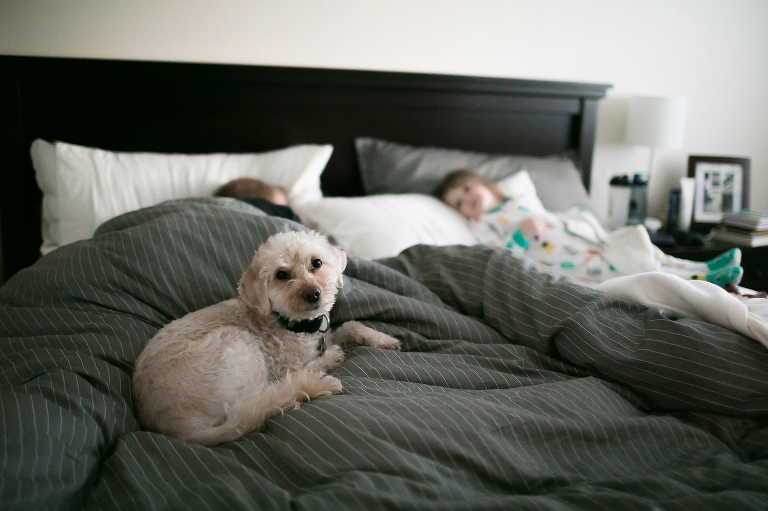 Colin woke up with a scratch on his finger and immediately demanded a bandaid.  Obviously Jill required one for her (imaginary) scratch as well.
There was a mini-meltdown during bedtime the night before because Jill didn't want to share her new Perler bead heart.  I promised Colin that he could make his OWN heart, with any colors he likes, the following morning.  Sure enough, as soon as we came downstairs he walked straight to the counter and started on his heart.  Seriously, the memory of kids!
After breakfast, with the kids too sick for a public venue, I decided to do some quick photo session location scouting.  I'm considering doing WINTER mini sessions and wanted to check out some spots in Evergreen, Colorado.  The kids weren't very cooperative (ok, fine, it was freezing and they were sick) so the adventure was short lived.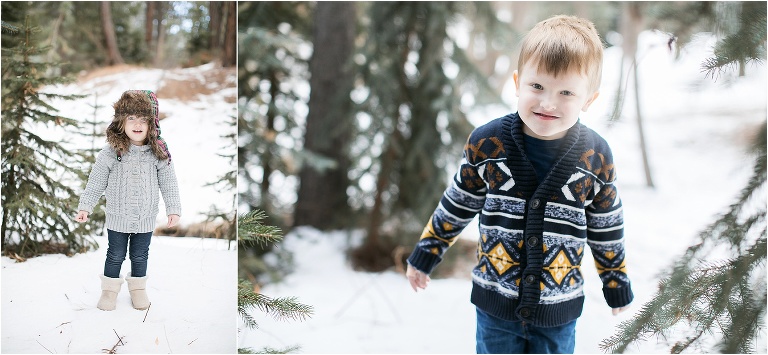 Once we got back home, I made 'beds' on the couch for the sickies to watch Peppa Pig (screen time limits don't apply to sick days, right?)
Don't let my artistic cropping above fool you… this is the state of our living room floor on a daily basis.  (Played with the self timer to get a shot with me in it!)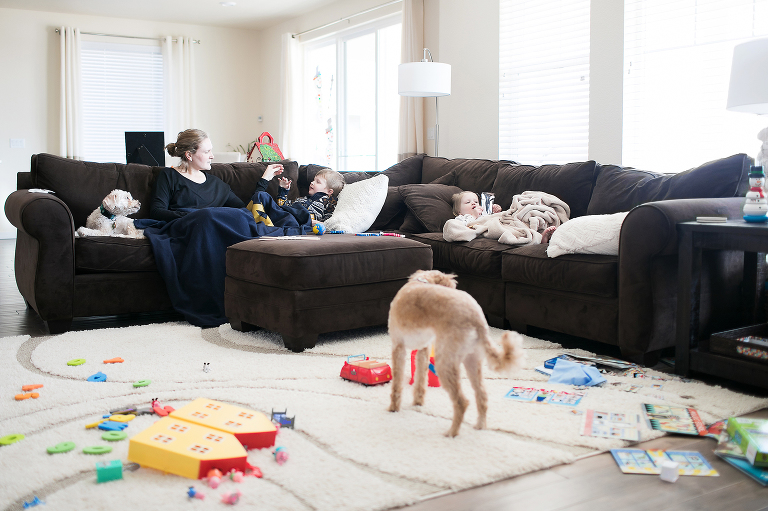 Lunch time.  As you can see it's the highlight of the dogs' day.
These days Jill goes potty and then walks over to the pantry for a 'purple candy' (a gummy bear).  Unfortunately no amount of gummy bears will motivate her to go #2 on the potty.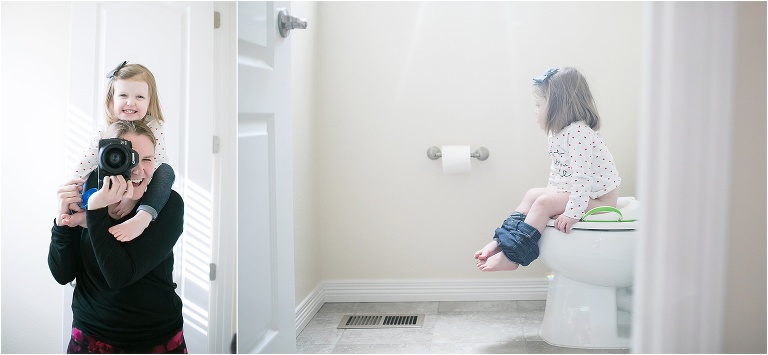 No one naps anymore, but we do a daily 'quiet time' where each kid has to play in their bedroom for an hour.  For some reason Jill wanted me to change her into her pajamas for quiet time and then pretended like she was going to take a nap.  It was all an act.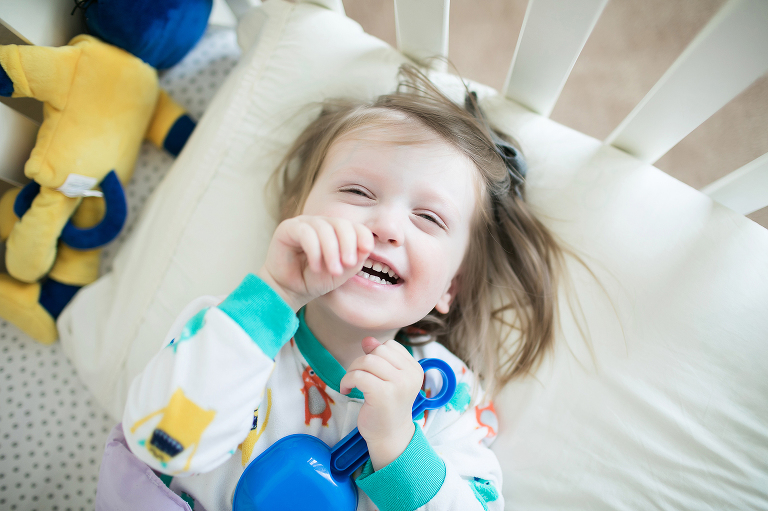 The Peppa Pig family comes everywhere these days.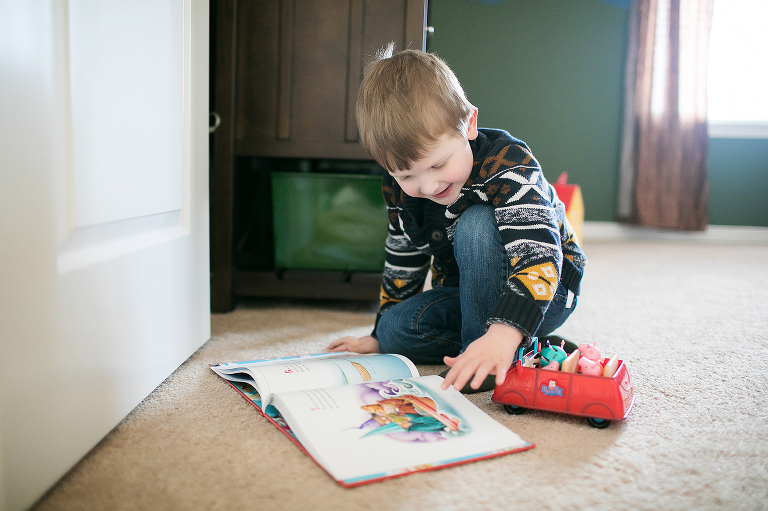 Quiet time used to be when I did all my Miss Freddy work, but… moment of honesty… Miss Freddy doesn't have much work these days.  (Still working on finding clients here in Colorado!). So, I enjoyed a couple peaceful moments with my Kindle (let's say semi-peaceful because quiet time does require some policing).  That lump on my legs is Colby.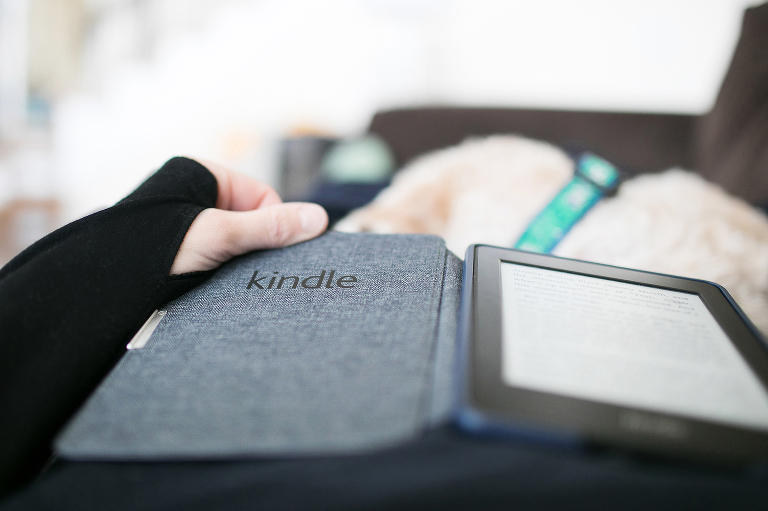 After quiet time, we played in the play room.  Colin fielded some calls from Peppa Pig.  (Can you see a trend as far as our current interests go?)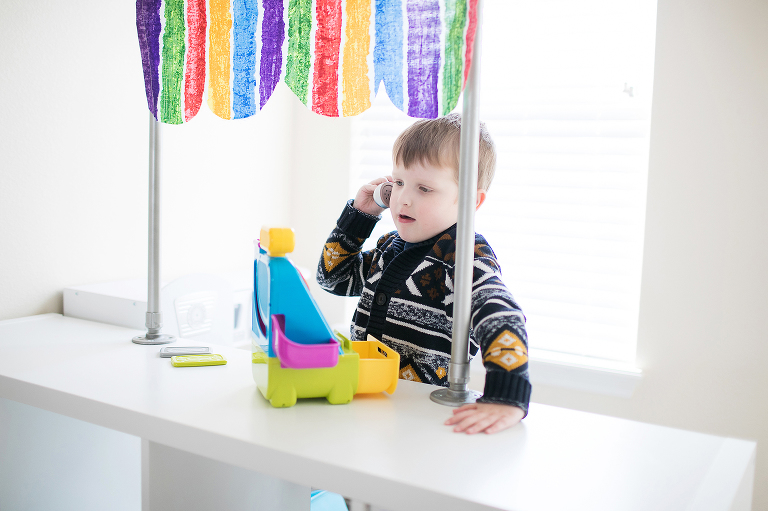 Jill is preparing food for the restaurant.  Which looks an awful lot like dumping all the food on the floor (don't tell the health department).
I've probably said this over & over again, but I adore having a playroom.  And ALL THE LIGHT in it.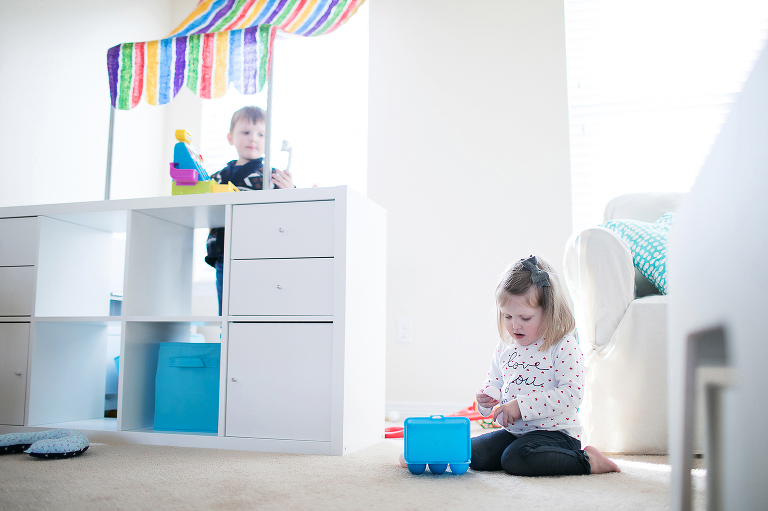 Art project time.  They're painting a special valentines project that'll appear on the blog soon (a 'use your photos' craft idea)!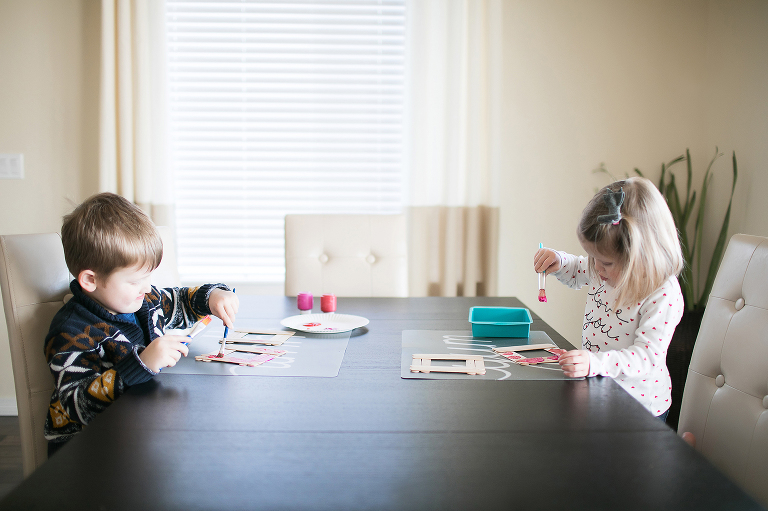 Santa brought these plasma scooters and they have already provided ENDLESS entertainment.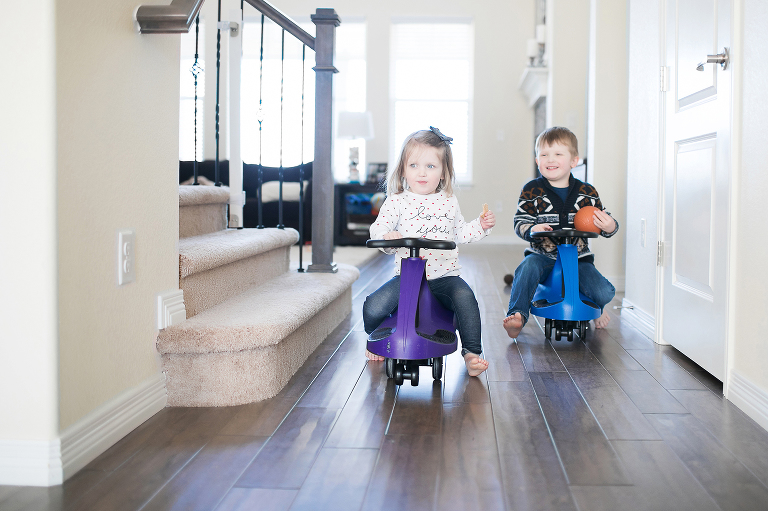 Since the kids were sick, I couldn't bring them to the gym childcare.  I was lucky that my brother-in-law (he lives with us at the moment) offered to watch them so I could go to my PiYo class.  Crazy enough, after class the instructor asked me if I'd ever considered getting certified to teach…. something for me to ponder for sure…
Back home in time for dinner… and Daddy walked in the door a few minutes behind me!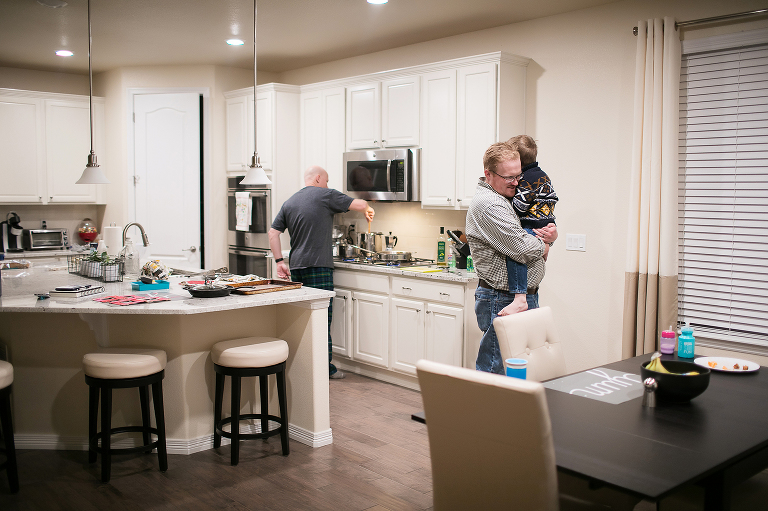 Since the kids don't nap, bed time is nice & early in our house.  We rolled from dinner straight into bath time.
Another self timer shot.
Dad reads the bedtime stories while Jill runs laps around the upstairs (her own unique bedtime ritual).  How she still has the energy for running laps… at the end of the day… while sick… astounds me.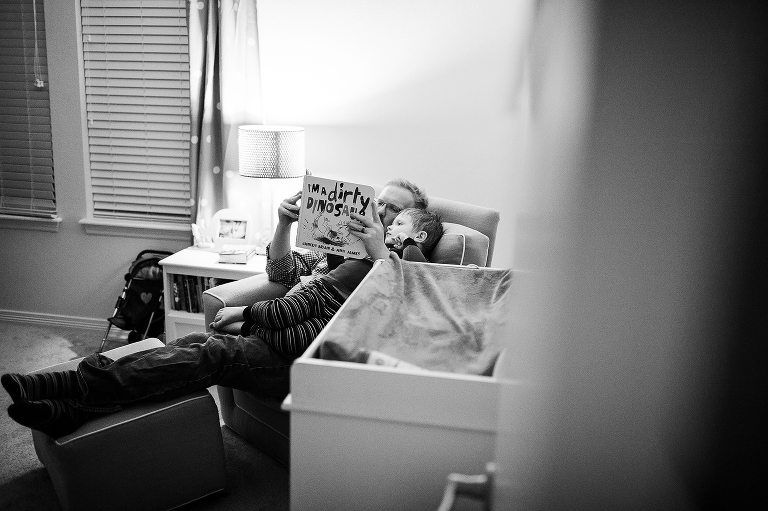 With the kids in bed, it's time for Colby's favorite time of the day… un-interrupted snuggles with Mom on the couch.  We stay firmly planted here for the rest of the evening.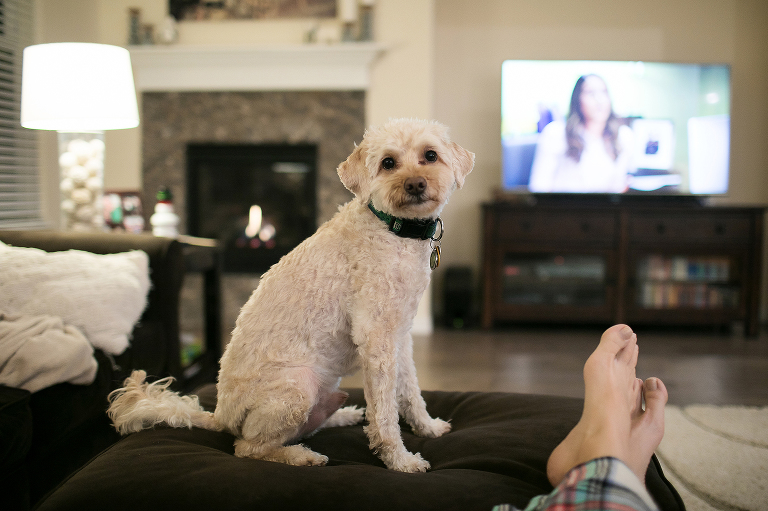 …. and that's a wrap.
---
Want to see more days in our life?  Check out my previous posts in the series or follow me on Instagram!
All photos were taken with my Canon 5DMarkIV & 35mm f/1.4 lens [see more of my camera gear recommendations]!