Ok, deep breath.  Here in Seattle we still have quite a bit of time before the kids go back to school.  Summer is NOT over yet!  But I've already started to see some 'first day of school' photos showing up on my Facebook newsfeed (Arizona!  You guys are EARLY!) so I figured it was best to share this new freebie right away!
Document the big first day with these cute (FREE) signs, designed by Miss Freddy!  Simply print the necessary grade(s) for your kid(s) and have them hold the sign for a quick photo.  Also included is a 'last day' design so that you can repeat at the end of the school year, compare the photos & see how much your child has grown.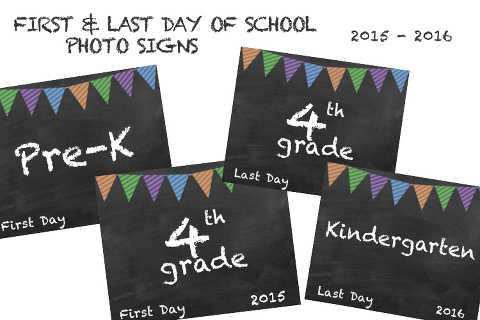 As a bonus, I'm including a matching first day of school interview template (also FREE)!  Have your little one(s) fill out their answers- it's the perfect way to keep a record of their handwriting & personality at this age!
download your free first day of school photo sign
Click the link to download the FREE BACK TO SCHOOL PHOTO SIGNS + FIRST DAY INTERVIEW!  And consider subscribing to my blog so that you never miss a freebie!
coming in august:  back to school styled photo sessions!
For those of you who live in Seattle, make sure you're signed up for my local newsletter because I'm announcing some Back to School styled MINI SESSIONS next month & newsletter subscribers get first dibs!  I'm putting the final touches on the setup right now (ie: staining a vintage school desk) and can't wait for you to see it!