New to Project Life? Make sure to read my first post!
I've chosen the digital version of Project Life to document my story [available for purchase here]. Since I use Photoshop almost daily, the choice was easy for me.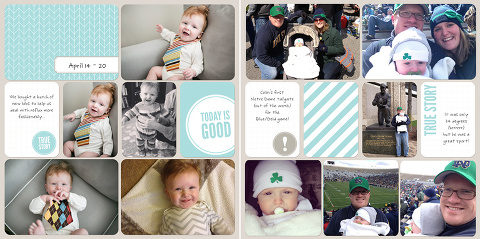 This is my third year using this project, so I've developed a bit of a system. It works for me. I'm not promising that it will work for you, but I'm sharing anyway.
I spend 20 minutes per week on Project Life. It's typically Monday, during Colin's nap time.
I create a folder for the week. I upload my iPhone photos using Lightroom.
I upload my DSLR camera photos using Lightroom. If necessary, I do some minor editing.
Using Adobe Bridge, I review the week's photos & flag my favorites. I try to narrow down the favorites to around 8-12 photos.
I open the Project Life templates into Photoshop.
I insert the photos I flagged as favorites.
I insert the filler/journaling cards and add my notes.
I'm done! And free to use the rest of nap time for other things… like laundry or snuggling my favorite pup [guess which one I usually choose].
One way that I make digital Project Life SUPER simple is by choosing one design per year. For 2013's book, I'm using the Seafoam Edition. That prevents me from getting overwhelmed by design possibilities. At the beginning of the year, I spend a little more time each week on the designs- choosing the note cards, filler cards & title cards I love most.
After about eight weeks, I recycle the same page formats (in order). This way, I don't have to even do step #6 above. I just open the design I already used (2 months ago), and insert my new photos. It looks like a totally different page, but it coordinates perfectly into the book!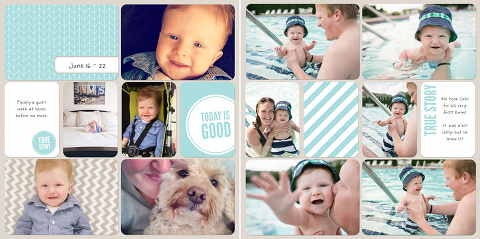 [Look! It's the same design as the April page I shared above, but the pages turned out very different.
They are separated by 2 months so the book won't be monotonous.]
Recycling designs isn't for everyone. Certain people love infusing creativity, embellishing their pages with special touches, etc. I'm not one of those people. Getting the pictures into the book is what matters most to me. And I'm more than thrilled with my pages using the most very basic form. Keep it simple!
Still think digital may be over your head? Click here
to buy physical Project Life kits.
Have questions about my experience with Project Life? Leave a comment below!