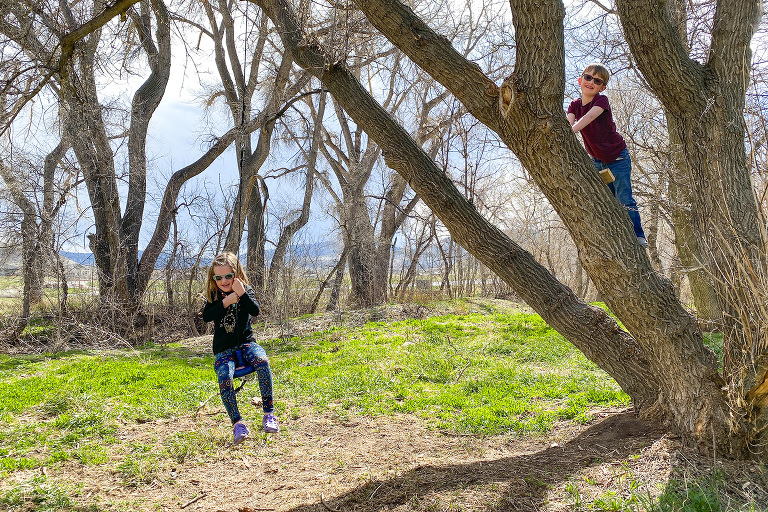 currently…
enjoying spring. For a few weeks each spring, a creek runs through our neighborhood (when the snow is melting in the mountains) and it turns our open spaces into GOLD. Whoever put this rope swing in the tree next to the creek is currently our hero.
feeling every single emotion in any given day. According to all the memes, this is apparently normal when you've been quarantined for 42 days.
howling every night at 8pm. It's a weird thing we're all doing, but it's kind of awesome.
watching Love Is Blind on Netflix.
reading Becoming by Michelle Obama. Still. Guys, this is a great book but I just haven't made it a priority.
buying lots of random things online. My favorite recent purchase is this attachment for our utility sink to help wash the dog. Only took me ELEVEN YEARS AS A DOG OWNER to make this easier on myself.
connecting with my new "Masterclass" group. Basically a business mastermind and I NEEDED this community more than I realized.
focusing on Digital Organizing Sessions. My calendar was fully booked through May when COVID happened and I've been able to keep all the scheduled sessions and even add a few clients off the waitlist.
writing content for my next course: Mac Basics. When I made my 2020 plan for Miss Freddy, it was scheduled for a May launch, but since the whole world turned upside down the launch is going to have to wait until late summer or early fall (but it's coming, promise)!
hoping, always, that we can return to a sense of 'normal' soon.