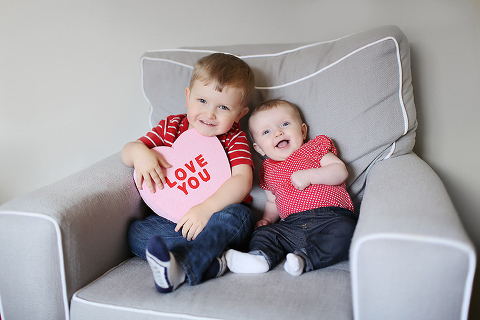 currently…
loving that the stars aligned for this valentines photo of my little ones.  Man, they definitely look like siblings here.
feeling grateful that so much of our family was able to visit for Jill's baptism last weekend.
wishing for one blissful night of uninterrupted sleep. [oh, how I wish.]
reading blog posts instead of books lately.  Haven't had much reading time, which is kind of a bummer.
listening to Colin count everything.  After waiting so long for speech, my heart is bursting over every single word [he counts to fifteen!]
sulking over our failed date night [first one in MONTHS].  The concert venue ran out of parking [huh?] and we didn't make the show.  The tickets were John's Christmas gift and I'm notorious for giving him bad gifts.  Wa. Wa. Wa…
craving some time to be an adult.  Having two little ones needing you at all times can be very draining.
watching Bubble Guppies.  Slipped into some bad habits while the household was perpetually sick and now Colin's favorite words are 'mo buckies' [which is toddler for 'more bubble guppies'].
eating Girl Scout cookies by the fistful.  Someone please help me.
working on a fun Saint Patrick's Day decor idea [coming to the blog soon].  My favorite holiday!