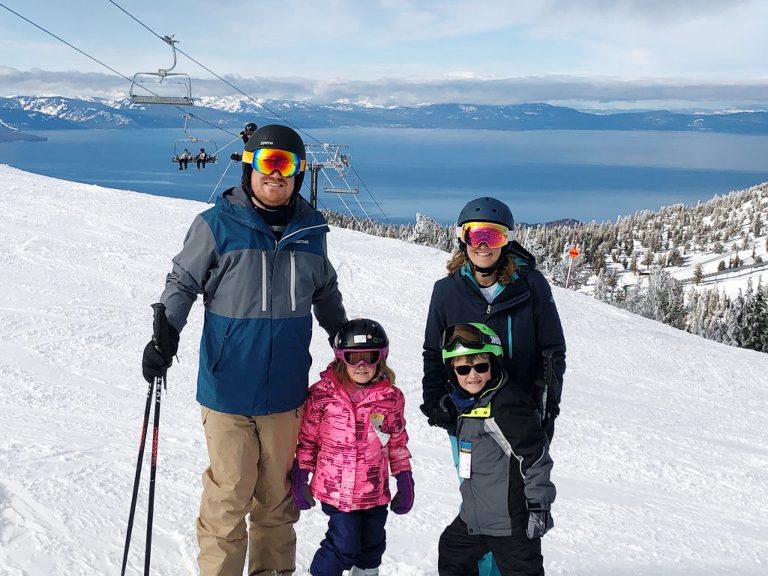 currently…
remembering a fun week in Tahoe. This photo was from our first time skiing with the kids (usually they're in ski school). They even did some blue runs with us! That view though, right?
celebrating that I FINALLY passed my kidney stone. It was an almost 10 week ordeal that was pretty miserable (two ER visits + lots of pain). I narrowly avoided surgery so it's a big relief all around. I'm feeling MUCH better now. 
enjoying our new custom closet. We have a nice big master closet in this house and the space wasn't being used well at all (the builders just installed a single bar across the wall and left another wall totally empty). The new closet is honestly a dream come true.
watching the final season of Schitt's Creek. I am so, so sad this is the final season. Loving the new episodes though.
reading Becoming by Michelle Obama. I was on the library waitlist for a YEAR and I'm excited to dive into this one.
listening to the Greatest Showman Reimagined.
wearing these hilarious 'puffy sneakers' all day, everyday this winter. They make look a little silly (or like I'm going to the moon) but they're seriously the best. 
loving all the photos of finished family yearbooks I'm seeing on social media + in the family yearbooks course Facebook group! Seeing so many people use my simple process to FINISH a family yearbook makes me happy!!
starting to outline my next online course. It's going to be called Mac Basics!
feeling ready for it to be February already!