Wouldn't you know… we went hiking AGAIN! Maybe it's the investment we made in Colin's hiking backpack
. Or maybe this is just what we do now. The Pacific Northwest version of 'us'.
This time, we headed to Little Mount Si. Also in North Bend, WA [we will branch out eventually, but North Bend is just so convenient & beautiful!]
For this hike I left my camera at home [intentionally, it's kind of a beast and the extra weight makes hiking more difficult] so all of these photos were taken with my iPhone 4s. Check out my tips for taking better photos on your iPhone here.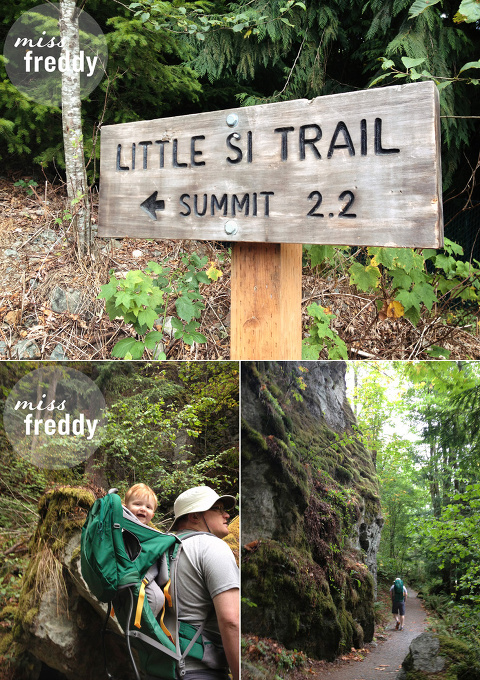 You guys, these photos above? We are pretty much in the parking lot. Yup, we hadn't even started the hike and I'd already started snapping photos because it was 'just too pretty'!
Once we started, things just continued to get more beautiful. One thing I love about the Pacific Northwest is how everything is GREEN and covered in moss. Since the temperatures don't get very low & there's so much rain here, it makes for a setting that feels a bit like Middle Earth [yikes, a Lord of the Rings reference? Nerd alert].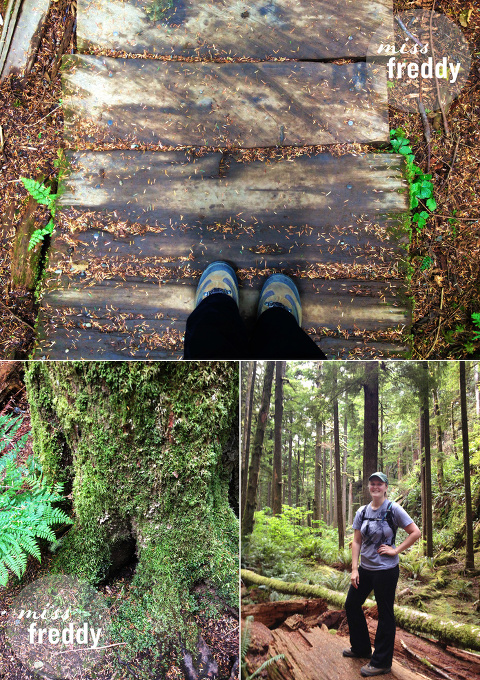 …and a very sweaty Miss Freddy. You're welcome.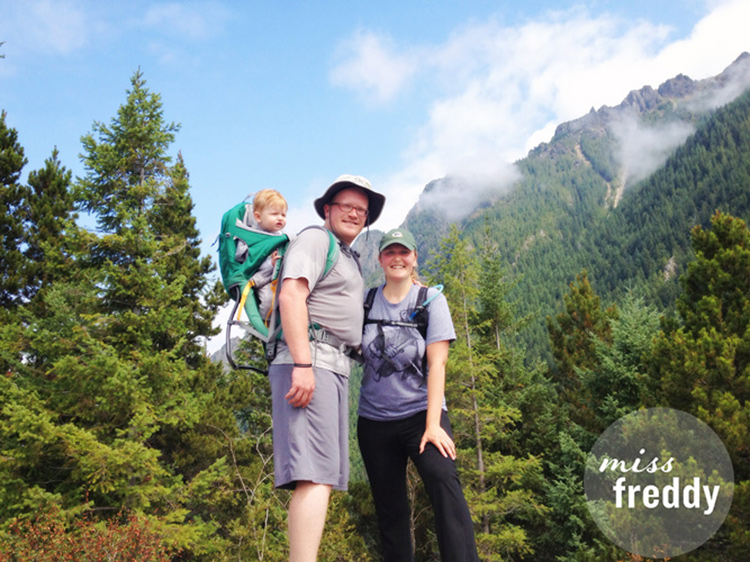 We reached the top! One thing I liked about this hike was the pace- it started off steep & then leveled in the middle before getting steep again at the end. It made it feel more like intervals, with natural 'resting' periods. I didn't have to take a single break, unlike my disgraceful performance at Rattlesnake. Don't get me wrong, I still worked up a solid sweat [see above]. I just didn't end up cursing small children as they passed my tired behind.
The view at the summit didn't top Rattlesnake, but it wasn't too shabby.
Ok, this next part may seem normal to some of you, but not me. You see, my experience with rock climbing is non-existent. Sure, I've seen it in movies. I even carried a carabiner on my backpack in high school [duh… didn't you?]. Oh and I've shopped at REI [where there is a rock climbing wall in the back]. So to see real, live people hanging off the side of a real, live mountain? Crazy! I can safely say I will never do this, but it sure was neat to watch. [never say never, I suppose, but yeah… never.]
Colin found it boring. Good thing, little guy, because I don't know if Momma wants you to be a mountain climber…
What will be our next hiking adventure? If you have a suggestion, please comment below!