Colin,
My little 'miniature muffin'. You're quite lucky that we exhausted [most of] the ridiculous nicknames on your older brother, Colby Jack. It could be much worse, kiddo.
Nine months. How slow nine months of pregnancy felt. Yet how fast nine months of your life flew by.
Today I watched your little belly jump while you had the hiccups. Listening to the cute little noises that accompanied the movement. And suddenly I remembered myself, very pregnant, sitting at my desk watching my own stomach shake as you hiccuped. You frequently had the hiccups. But sadly, just nine months later, I can barely remember that feeling. Those are distant memories.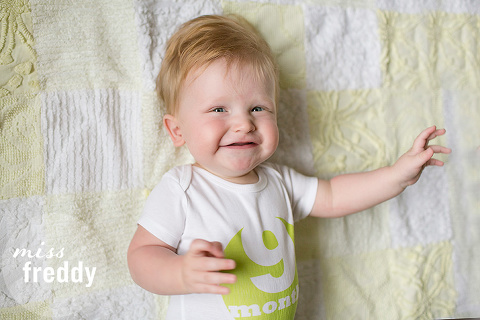 My mind is filled to the brim with so many wonderful new memories.
The way you splash with excitement in the bathtub. Oh, how you love sitting in the big bath tub! The way you face planted, straight onto your high chair tray, to gobble up pieces of cheese when I wasn't putting them into your mouth fast enough [you are SO my child!] And the way you look around for Daddy, when he walks in the door after work & you hear him talking to you in his Elmo voice.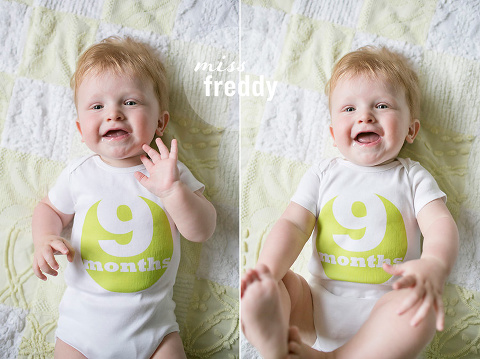 I know that mobility is right around the corner. So I'm cherishing the current 'stillness', even though you're hardly still. You so desperately want to crawl. You shimmy your butt and push with your arms, but can't keep that tummy lifted off the ground. Spinning around & around in circles, because you just can't quite move forward. It's absolutely precious.
The very best part of nine months is that you finally, FINALLY, have outgrown your catnapping. You've been a terrible napper since birth, even in the hospital. Just too excited to see the world, I suppose. Early on, I read so many books on sleep, searching desperately for a way to help lengthen your naps. Twenty minutes just wasn't enough for me to get anything done. Everything I read assured me that you'd grow into napping. That around 4 months… maybe 6 months… or hopefully by 12 months… something would click. You'd begin taking long, consistent naps.
It finally happened. You now take a morning & afternoon nap, each 1-2 hours long [sometimes longer!]. And my favorite part? [other than the return of my personal sanity & some decent productivity] The way your head pops up from your crib, with a huge grin on your face, when I come into your room at the end of your nap and say 'is there a baby in here?' You are so happy after a nice, long nap.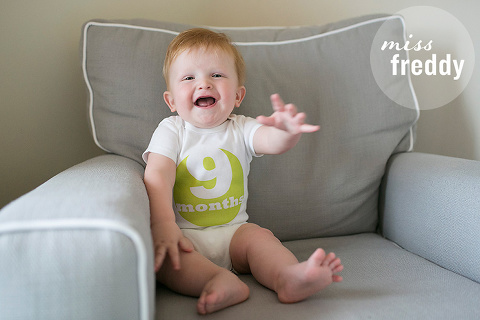 Your happiness makes my heart soar. It makes all of my uncertainty & worry during the last 9 months dissolve.
Today your grandpa called you one of the happiest babies he's met. [I completely agree, but those words mean more coming from someone who isn't your momma.] You smile at everyone. Babies. Adults. Family members via Facetime. No separation anxiety or fear of strangers. Just happiness.
I love you so much, little man. I wish for you a life that continues to be full of so much happiness.
Love, Your Momma
[Monthly onesies are made by my talented cousin, Bridget. You can buy your very own set at her new etsy shop!]