Earlier this month we visited North Cascades National Park as part of our goal to visit FOUR national parks this year.  We are so lucky to live in a state that has THREE national parks so we wanted to check off the one in our own backyard that we hadn't yet seen.
We did this as a quick day trip because it's a 2.5 hour drive from Seattle, but if I did it over again, we would definitely camp overnight in the park.
our visit to North Cascades National Park
This park was quite different than the others we have visited.  While technically they do have a visitor center, there was no admissions gate (so it's free to enter??) and I struggled to find good hiking info online.  We couldn't even get our GPS to recognize an address so this map was really helpful.  We basically followed that map through the park (State Route 20) and stopped at the marked viewpoints.
The main attraction is definitely Diablo Lake.  We took the turn off to the Environmental Learning Center and drove over the dam.  It took us right down to the lake and it was REALLY quiet there (see photo above).
Next we stopped at Colonial Creek to eat our picnic lunch.  We sat at an open campground which was right near the water.  After we ate, the kids had a BLAST playing on the beach.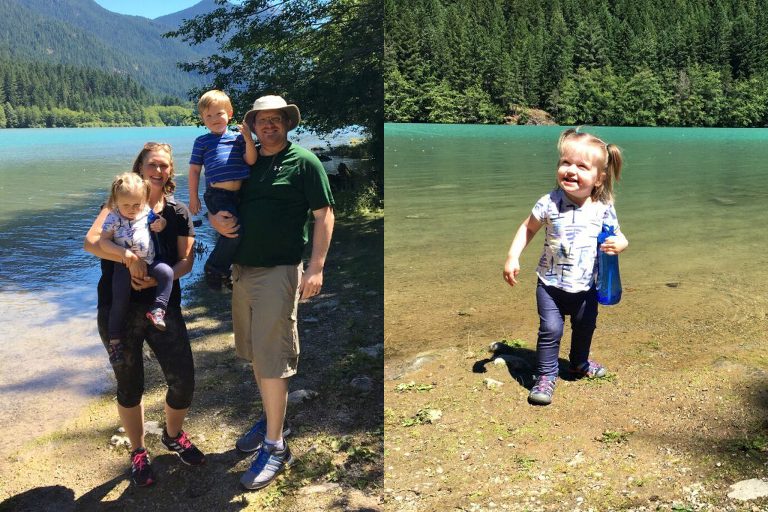 Like I said, if we go back, we would definitely camp (it was a LOT of time in the car for one day) and Colonial Creek seems like the perfect spot.  Seriously, the campgrounds are right along Diablo Lake and this is the view: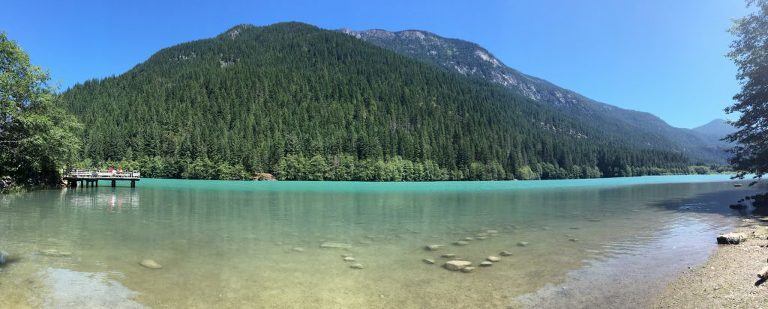 After playing at the lake, we continued on State Route 20 to the Diablo Lake Overlook.  Totally breathtaking.  Worth the trip.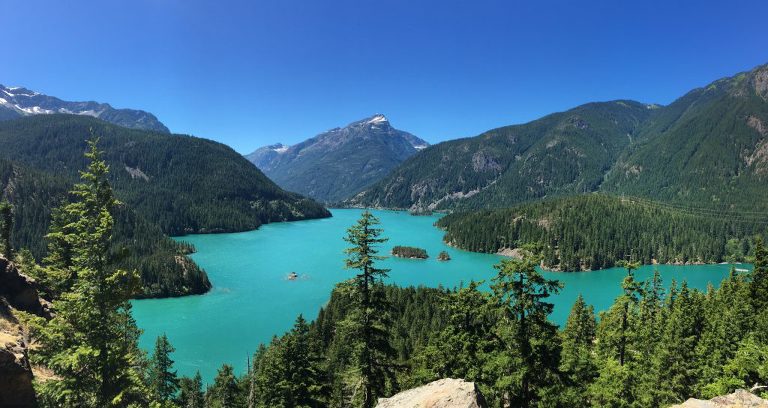 We drove along the rest of State Route 20 (until this map was finished) and then turned around.  We had intended to do an easy hike with the kids, but by the time we made it to the trailhead, it was really late in the day and we needed to head back to Seattle.
The traffic on I-5 was a disaster (why wouldn't it be on a Sunday?) so the trip ended up being a LOT of time in the car.  Hence why I said this would be better as an overnight camping trip.  We made a couple pit stops on the way home to calm restless children:  1) Cascadian Farms for ice cream and 2) dinner near the outlet malls in Tulalip.  Also, thank the LORD for the iPad!!
---
Looking for more fun things to do in Seattle/Washington?  Check out these posts!    Or click here to see the other national parks we have visited!