Over Memorial Day weekend we did a quick roadtrip to the Olympic Peninsula so that we could see Olympic National Park for the first time (part of our plan to visit four national parks in 2016).  It was a quick & easy roadtrip from Seattle and really beautiful!
day one:  port townsend
During my three years living in Seattle, I've heard PT mentioned a few times and added it to our list of places to visit.  While it could be done in as a day trip, we thought it would be fun to pair it with Olympic National Park and make a weekend out of it.  We started our adventure by hopping on the Southworth ferry (from West Seattle).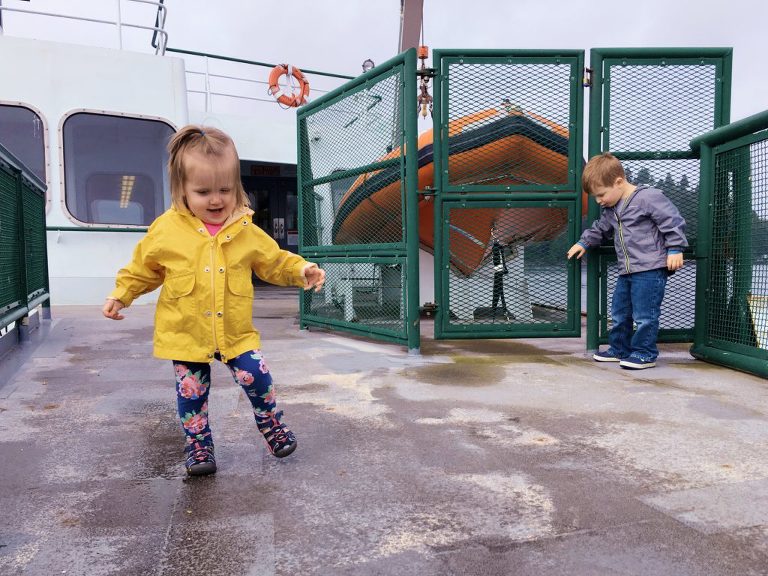 The kids adore riding the ferry and, if I'm being honest, this very possibly was the highlight of their trip.  We had considered driving another route down through Tacoma & up the Olympic Peninsula (no ferry), but it was absolutely worth the $20 fare to watch them shrieking with excitement.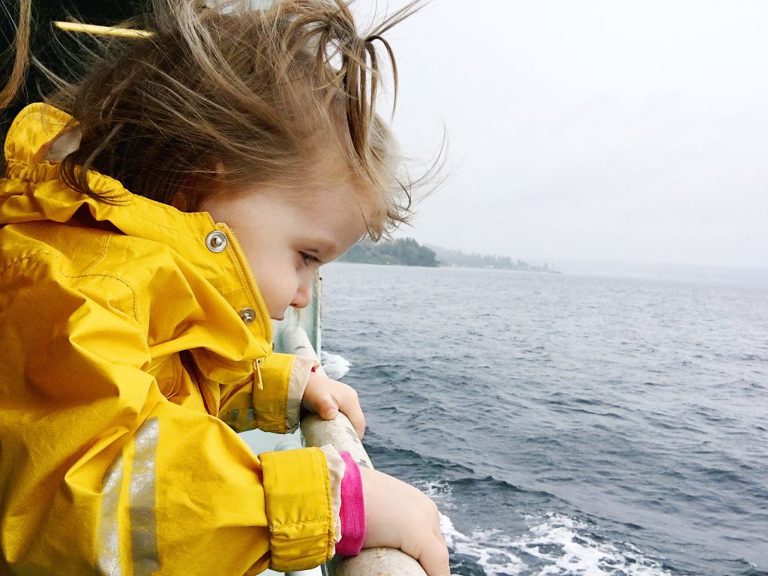 From Southworth it was just under 1.5 hours to Port Townsend.  It was overcast & cloudy for us, but I imagine on a clear day this drive is absolutely gorgeous!
When we arrived in Port Townsend, we went straight to brunch at Hudson Point Cafe… a neat restaurant right in the marina.  After we ate, the kids enjoyed walking around the docks and looking at the big boats.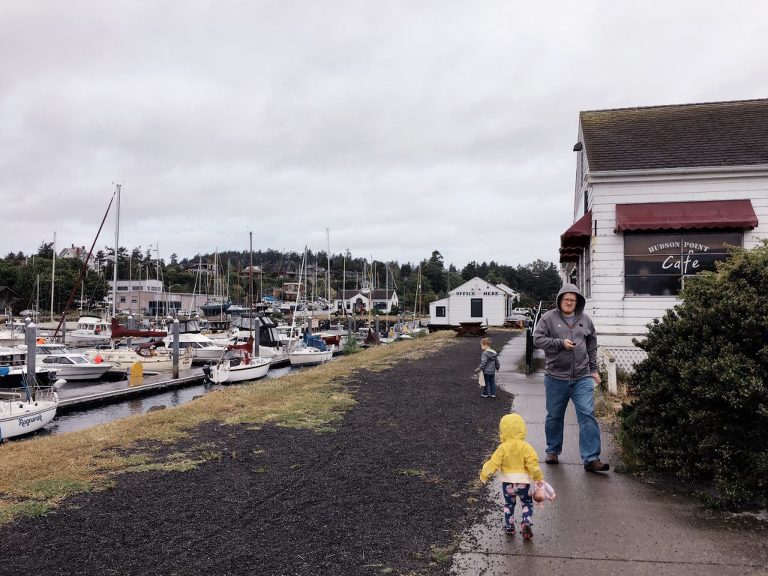 From there we drove to Fort Worden State Park.  Thankfully the clouds were breaking up a bit, but oh man it was windy!  We walked out onto the pier and visited the Marine Science Center.  It was only $5 a person (kids were free) and has a big room full of 'touch tanks' where the kids could touch starfish and anemones.  We lucked out and were there for the 'public feeding' which happens every Saturday.  The kids LOVED it.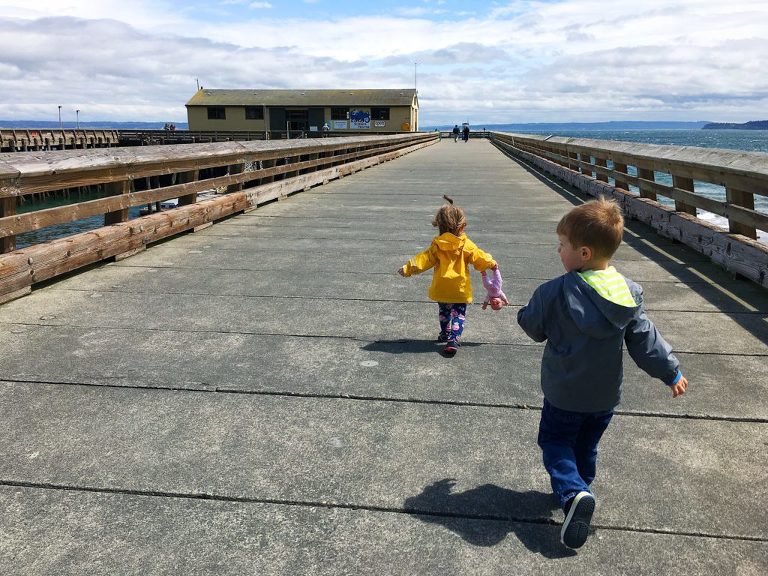 The original plan was to spend the afternoon exploring Fort Worden State Park, but since it was so windy and the kids were getting cold, we decided to head back into town and find something else to do.  As we were driving, both kiddos fell asleep in their car seats as we just happened to be passing by Fairwinds Winery (happy accident).  John stayed in the parking lot with the sleeping babies while I went in for a quick tasting.
After the wine tasting, we took the kids to Chetzemoka Park… a lovely waterfront park with a playground, gazebo & picnic area.  And to wrap up our time in Port Townsend, we drove to 'uptown' Port Townsend for dinner at Sweet Laurette Bistro.  A tiny, adorable, French restaurant focused on local & seasonal ingredients.  YUM.
After dinner we said goodbye to Port Townsend and drove 45 minutes to Sequim (about halfway between PT and Olympic National Park) and spent the night in a hotel.
day two:  olympic national park
We are in a weird stage at the moment where hiking with the kids in backpacks is too hard (Colin is almost 45 pounds), yet we can't really have them hike on foot yet either (it takes me 20 minutes to go ONE city block in our neighborhood because dandelions! rocks!  bugs!).  So, I specifically was looking for sights we could see via our car or an easy kid-family path.  First up, Lake Crescent.  We went to the Lake Crescent Lodge for breakfast and CUTEST PLACE EVER!!  Seriously.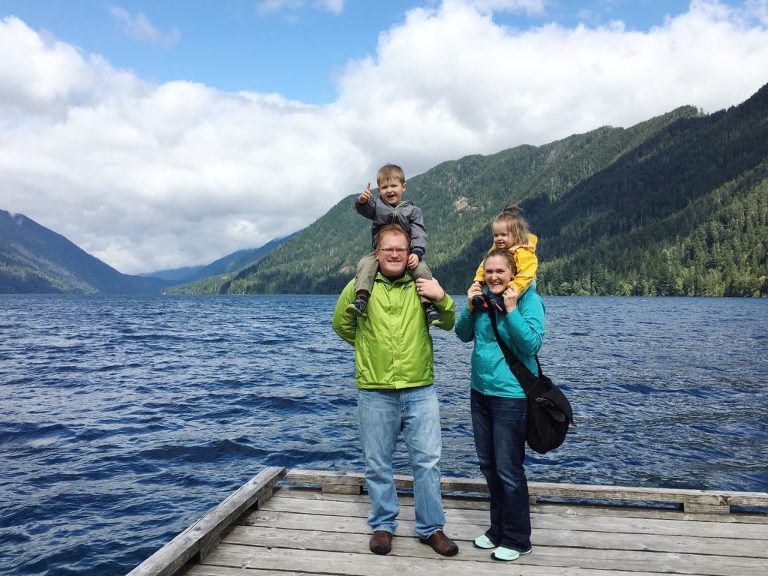 After breakfast, we explored the beach outside the lodge for a bit.  It was another windy/chilly day, but even with the 'rough' water, Lake Crescent was stunning.  For what it's worth, the lake & lodge are considered part of Olympic National Park, but there wasn't a park entrance/admission fee to visit.
Next we loaded the kids back into the car and drove over to Hurricane Ridge (the primary attraction of Olympic National Park).  We bought an annual pass (now we really need to hit at least four national parks!) and started the scenic drive up to the visitor center.  The clouds were pretty thick on our drive in, which was beautiful in its own way.
Thankfully when we arrived at the Hurricane Ridge Visitor Center, the clouds were breaking up enough for us to see the snow capped mountain range in front of us.  When we pulled into the parking lot, we noticed deer coming up close to the road and I jumped out of the car to snap a quick photo with my phone.  Only to realize later that these deer are actually ALL OVER the park and not at all skittish about humans.  Hah, rookie mistake.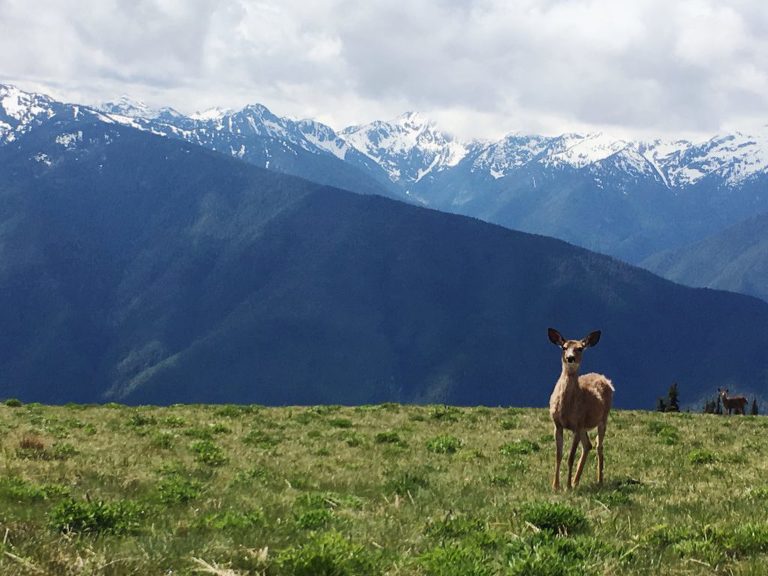 We had planned to hike the High Point Trail up from the parking lot which is an easy path that leads up to a 360 degree view of the mountains, but unfortunately it was still partially covered in snow and with two shivering kids, we turned back for the car (clouds were obscuring half the 360 view anyway).  We drove to the picnic spot a little farther down the road and had a nice little lunch (joined again by some deer) before we loaded up and drove to Port Angeles.
We arrived in Port Angeles much earlier than we planned (since we weren't able to do the hike at Hurricane Ridge) so we explored a couple miles of the Olympic Discovery Trail along the waterfront, with the kids in a stroller.  From there we stumbled upon a play structure for the kids to run around.
Finally, we headed to Bella Italia for dinner.  I won't lie and pretend I'm not a total nerd:  I picked the restaurant because of its tie to Twilight.  It's where Bella & Edward went on their first date… John even ordered the mushroom ravioli just like Bella (he's never read the books or seen the movies… he just likes mushrooms).
After dinner we started the trek back to Seattle.  This time we took the Bainbridge Ferry because it was running more frequently on a Sunday night than the Southworth one.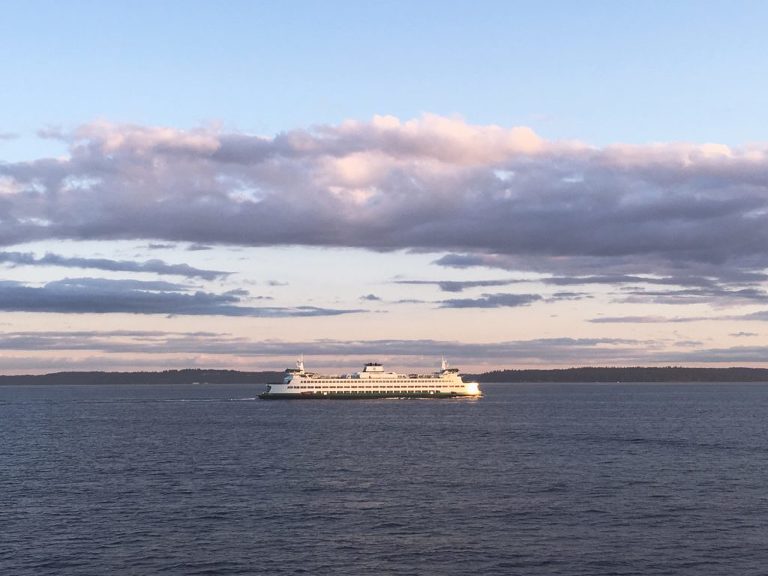 Once again the kids had a blast running around the ferry deck, except this time when the ride came to an end… meltdowns ensued.  It was a big adventure for our little ones and thankfully we arrived back home at juuuuuust the right time.
Next up on our national park list (later this summer)… North Cascades National Park!  Stay tuned!