We gathered in the conference room.  Another day packed with meetings.  As I fidgeted to get settled at the table, our manager walked in with a huge piece of paper and stuck it on the wall.  The team looked up eagerly.  She had scheduled this meeting weeks ago, but the agenda was still unknown.
The paper was blank.  "Team, it's time to set our goals for next year."
By the end of our meeting, that completely blank slate was plastered with neon Post Its & scribbled notes.  An exciting year lay ahead.
————————————————————————————————————————————————–
Sometimes I miss it.  The meetings.  The teamwork.  The structure.  The goals.
As 2014 loomed on the horizon, something was different.  I didn't have financial plans set by executives.  I didn't have an annual review.  I didn't have a department action plan.  And since I don't really do new year's 'resolutions', I was left with… well… nothing.
Full of promise and excitement about the year ahead, I needed a way to channel my energy.   I reminisced about the corporate world.  The Six Sigma tools.  The developmental exercises.  And I remembered the many, many times I encountered Start/Stop/Continue.  I knew it would give me the structure I craved– for my business & for myself.
My old coworkers reading this will definitely laugh.  But, come on… I spent eight years working at Target's headquarters.  It's hard to quit that.  At least I didn't use any acronyms in this post  [although I may still look at my calendar in retail count weeks].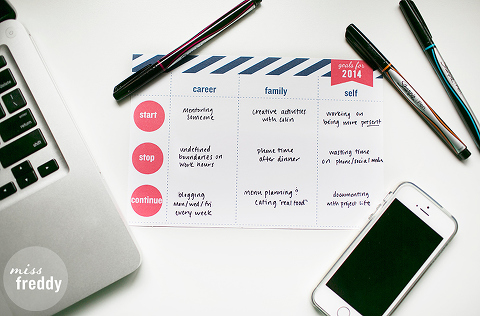 Start/Stop/Continue is a pretty self-explanatory exercise.  It's great because it doesn't focus solely on what's going wrong. It helps you highlight things that need to be changed, while also acknowledging things you're already doing well.
I did the exercise for my business, my role as wife/mother, and my self.  Here are my goals for 2014:
MISS FREDDY

START:  Mentoring.  In Minneapolis I was involved in many photographer networks and benefitted from being mentored & mentoring others.  That's been missing in Seattle.  I'm new here and still trying to network with other photographers.  It's time to find someone to mentor.  More to come on this.

STOP:  Undefined boundaries for work/life.  Working from home is amazing, but it's way too easy for work to become all-consuming.  Checking blog traffic stats, updating facebook, immediately replying to email messages.  It distracts me from my son and household responsibilities.  Plus, if I calculated my hourly pay rate… I can't even.  Time to work smarter.

CONTINUE:  Posting new blog content three times a week.  I've been posting every Monday/Wednesday/Friday for months now and it works for me.

 

FAMILY

START:  Doing creative activities/crafts with Colin.  When Colin was in daycare, he regularly came home with cute homemade art projects and crafts.  He was only a couple months old.  Sadly, the crafts have come to a halt now that I'm watching him full-time.  Our fridge could benefit from some new artwork [and the Grandma's fridges too!]

STOP:  Using my iPhone after dinner.  This is going to be very, very hard for me.  The evenings are my only time with John and I need to pay more attention to him and not my newsfeed.

CONTINUE:  Menu planning and eating 'real' food.  This year brought about some fantastic changes in our diet.  Mostly inspired by Colin, but also the amazing food culture in Seattle.  I want to continue to make healthy meals a priority.

 

SELF

START:  Working on being more present.  I struggle to dedicate myself to motherhood, amidst the distractions of running my own business & social media.  I want to do a better job of giving people my undivided attention & being a better listener.

STOP:  Wasting time on my iPhone.  Constantly refreshing Facebook, Instagram, Feedly, email, etc.  They're valuable for my business & social well-being, but are being used in excess.  I need to set boundaries for these time suckers.

CONTINUE:  Documenting our everyday life with Project Life.  Looking through our 2011, 2012 & 2013 family yearbooks makes me happy so I want to do this again in 2014.
Whew!  There are my 2014 goals. All spelled out on the blog for everyone to see.  While it makes me a tad uncomfortable to share so much of myself [the good and the bad], maybe it'll forge a new connection or friendship if you read something that resonates with you.
Want to go through the same exercise?   Jot down your START/STOP/CONTINUE on a blank piece of paper, a new word document, or print my free template.
What are your goals for 2014?  I'd love to hear… leave a comment below!