Colin,
Each month seems to go faster & faster.  You're developing more skills, more movement, and more personality every single day.  I love watching each minute.
Since you're beginning to do more, I thought it would be fun to document 10 months a little differently… by writing down your 'favorite things.'
Favorite Book:  Little Seal puppet book.  Your grandma bought this on her cruise to the Arctic Circle and this tiny book comes with us everywhere [fits wonderfully into the diaper bag].  You love to see the finger puppet move & this magical book instantly snaps you out of a meltdown.  I look forward to buying a few more animals from the collection.
Favorite Toy:  We really don't have a lot of toys yet, but you've always loved your Sophie.  This month you introduced Sophie to the real giraffes at the zoo!
Favorite Song:  You love when Mommy sings the ABCs.
Favorite Food: Homemade chicken with veggies [carrots, green beans, zucchini, anything really].
Favorite Word: Your noises & language have gotten a lot more 'sophisticated' this month and sometimes it sounds like you're having a very detailed conversation with yourself.  Favorite word is still 'dada'.
Favorite Thing to Do: Crawl around the kitchen and play with mixing bowls & measuring cups, while mommy cooks dinner.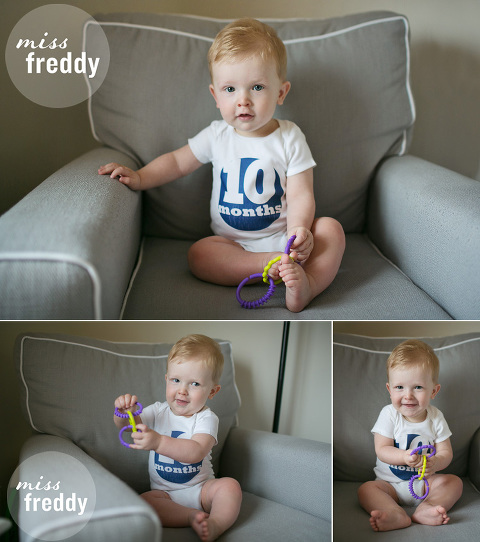 This month has brought a few new milestones.  Your first tooth!  And crawling!  Even though it's more of an 'army crawl', you're getting faster & faster.  You love to be on the move!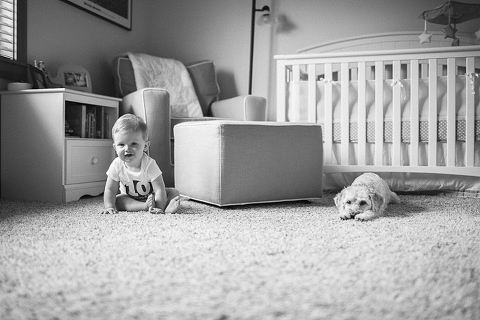 Anything & everything is interesting and it's so much fun to watch you discover the world around you.
I love you so much, little boy.  Keep smiling & exploring!
Love, Momma
[Monthly onesies are made by my talented cousin, Bridget. You can buy your very own set at her new etsy shop!]