HOORAY for the END of first trimester fatigue and the return of a little energy!  And just in time because we had quite a bit of action this month.
After lots of deliberation, we traded in John's Honda CR-V.  I know that's probably not interesting enough to blog about, but I found myself surprisingly sentimental when it came time to say goodbye.  It's the only car I've ever known John to own.  It was the car he picked me up in for our first date!  And I found it sort of entertaining that he wasn't sad at all to say goodbye [meanwhile I was holding back tears as we cleaned out our belongings].  I think he was just excited for the future.  We found a wonderful pre-owned Acura MDX that will be much more comfortable for our growing family.
Shortly after bringing home our 'new' car, we jumped on a cross-country flight to visit John's family in Florida.  With all the excitement of our moves, my pregnancy & welcoming Colin… it had been about 2 years since we had been to their Florida home.  And it was Colin's first time meeting his Uncle Kirk!
Colin was a riot in the sand.  Completely unpredictable.  The first time we took him to the beach (these photos), he was so happy to explore.  He had fun crawling in it and walking barefoot with his Dad & Uncle Kirk.  But the next time we brought him to the beach, he didn't want anything to do with the sand.  He'd whine while holding out his sand-covered hands and keep his feet lifted off the ground while he was sitting.  He was very cranky until we finally cleaned him off & headed home.  The third time we went to the beach, he was thrilled!  He loved collecting seashells and splashing in the ocean.  So, overall, I'd say the beach was a success?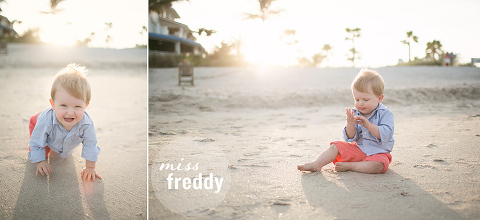 When we returned to Seattle, we had Colin's physical therapy appointment.  Many of you reached out with words of encouragement after I shared my concerns about Colin's delayed walking and so I wanted to share an update after his evaluation.  [We made the appointment at the recommendation of our pediatrician after he wasn't walking for his 15 month checkup… he is 17 months old now and still hasn't started.]  Thankfully, we got good news.  The appointment itself was actually quite fun.  We spent nearly two hours 'playing' on the gym equipment with the physical therapist.  She started by taking off his shoes, socks & pants so that she could see his leg movements clearly.  And then watched him independently play, while asking me questions about his health history & abilities.  He climbed up/down stairs, through tunnels, up ramps, down slides, along railings, and crawled on elevated mats.  After watching his movements, she shared that he does have a gross motor delay (which we pretty much already knew, hence the appointment).  But she said that he actually had some abilities that were pretty advanced and therefore he is just fine!  She couldn't explain why he's not walking without assistance- he appears to have the strength, balance & control- we just have to wait until he gets the confidence to take steps on his own.  No continued physical therapy needed!
She did recommend that we get his vision tested.  His caution (resistance to let go of my hand) could be a sign that he isn't seeing everything properly.  We haven't had prior concerns about his eyesight, but we are going to get it checked out.
We're thrilled that everything is 'ok' with our little guy.  He just likes to do things on his own timeframe and won't be rushed.  All we can do is wait [this kid is constantly teaching me lessons in patience] for him to let go!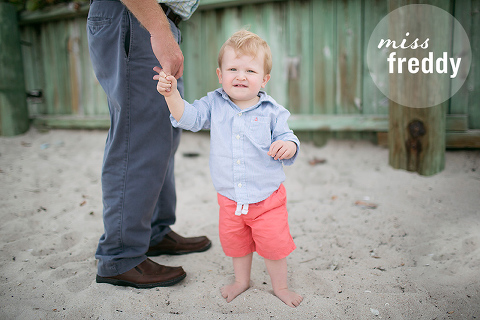 While we were in Florida, he did take a step on his own (transferring between two pieces of furniture).  We have seen him repeat this a few times, but he won't necessarily do it on command.  Yesterday he took 3-4 hands-free steps between furniture so his confidence is slowly building!  One of these days we'll have a walker!
Thanks again for all your sweet comments & stories of encouragement about missing milestones… it's comforting to know so many of you are cheering him on!